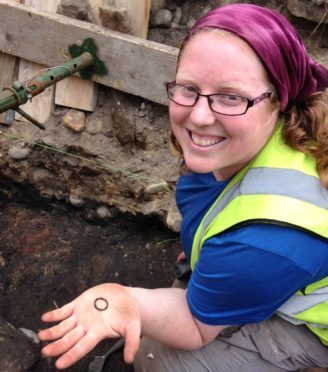 Time is running out for archaeologists to survey the largest Pictish fort in Scotland before it falls into the sea.
Experts from Aberdeen University have revealed that they will need to act quickly before the secrets of Burghead Fort near Lossiemouth are lost forever.
A team of archaeologists began excavations in 2015 and their efforts have already yielded significant finds including a Pictish longhouse and Anglo Saxon coins of Alfred the Great.
The ancient fort was destroyed by fire in the 10th century. It was a time when Vikings were known to have been raiding the Moray coastline and it brought to a rapid end a way of life which had endured for centuries.
The Burghead site has been hit with significant coastal erosion and the harsh North Sea environment over the years.
Dr Noble, who is leading the archaeological team, said: "Coastal erosion is getting to be a real issue at the site and over the last century metres of coastline have disappeared.
"The timber wall we found is only one and a half metres away from the erosion face. We hope to rescue as much as we can before it falls into the sea."
The team is fortunate to have decriptions of the site written by Major Hugh Young, whose family owned the fort for 150 years before gifting it to the local community.
He describes a lattice work of oak timbers which would have acted as an enormous defensive barrier – a hugely complex feat of engineering in the early medieval period.
The fire was initially thought to have destroyed artefacts that would give an insight into the mysterious lives of the Picts.
Dr Noble said: "When we started digging, we discovered that while the destruction of the fort in the 10th century may not have been good news for the Picts, the fact that so much of it was set alight is a real bonus for archaeologists.
"We have discovered that the complex layer of oak planks set in the wall was burned in situ and that the resulting charring has actually preserved it in amazing detail when ordinarily it would have rotten away to nothing by now."
The level of preservation has allowed archaeologists to take multiple samples for carbon dating which should provide new insights into the period when the fort was built, its construction and final destruction.
"The Picts were a huge influence on northern Scotland but because they left no written records, archaeology is essential in providing answers in regard to their lives, influence and culture," Dr Noble added.
The work at Burghead is supported by the Leverhulme Trust, Aberdeen University and Historic Environment Scotland.