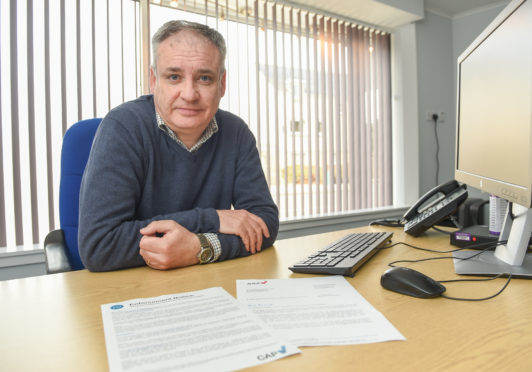 A watchdog will start monitoring sweeps for delivery charge rogue traders from today.
Campaigners have been calling for a crackdown on retailers advertising free mainland UK delivery but then slapping on surcharges.
Moray MSP Richard Lochhead submitted a dossier of 124 companies breaking the rules to the Advertising Standards Agency (ASA), which sent out a warning and set today's deadline for compliance.
eBay to ban sellers who impose rip-off delivery charges on north customers
Mr Lochhead said it was important legal action was now taken against any companies failing to comply and for consumers to continue to report misleading adverts.
"It is wholly unacceptable for any retailer to try and attract custom by advertising free delivery to the UK mainland only to then slap on a surcharge to many parts of mainland Scotland," he said.
"Indeed, I would want to see any company that has not complied to be referred to Trading Standards to allow legal action to proceed and this is a course of action the ASA agreed to consider.
"The decision by the ASA to take my dossier seriously was a breakthrough for the fair delivery charges campaign and sends a powerful message to the what must be thousands of retailers out there who mislead customers.
"The 124 companies were however the tip of the iceberg and there is a long way to go to stop the many often absurd surcharges imposed on the north and north east of Scotland."
Victory for unfair delivery charge campaigners as legal threats issued
An ASA spokeswoman said checks for compliance would now begin and sanctions, including legal action, would be taken forward.
"We expect to see a high level of compliance with our enforcement notice by the deadline," she said.
"From today our compliance team will start their monitoring sweeps to ensure that companies have complied. We will not hesitate to take action against non-compliance.
"In terms of action against non-compliers, we will consider how best to achieve compliance using both our own sanctions and by working with enforcement partners, including our legal backstop, Trading Standards."
The ASA's powers include the ability to ask internet search websites to remove a marketer's paid-for search advertisements when those advertisements link to a page on the marketer's website containing material that breaks the rules.
Its website also has a section where companies breaking the rules will be named and shamed, which is designed to appear in search engine results when a consumer searches for a company's website.