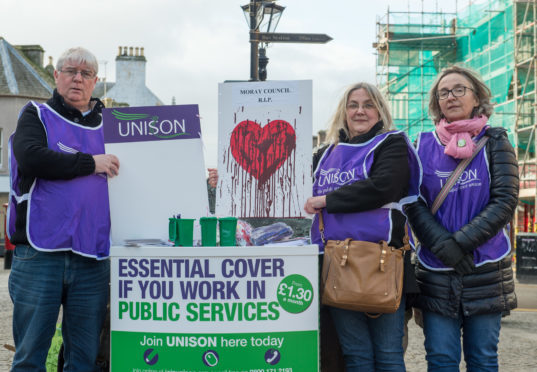 Union bosses believe Moray residents are the "real losers" amid a power vacuum at the helm of the authority.
Seven Conservative councillors walked out of the ruling administration coalition this week prompting a leadership crisis.
Yesterday the SNP, who are the largest group in the council, continued talks with independent and Labour members in an attempt to take control.
A deal is not, however, expected to be finalised before a full council meeting next week.
Meanwhile, Unison believe the cost of the previous "coalition of chaos" has been cuts to services that were finalised in this year's budget.
And branch secretary Suzanne Wright believes now is the time for change at the top of the authority.
She said: "We take no pleasure in being proved right in our assessment of this administration's lack of strategic vision.
"The imperative for the council now must be to achieve a functioning group and it is our hope that those councillors who do so step up to the challenge with a positive vision.
"We need people with a desire to work with everyone to bring forward a strategy which will support and safeguard services for the people of Moray and safeguard our members' jobs."
The Conservatives quit the administration in a row over two vacant corporate director positions, which command salaries of more than £90,0000, being advertised.
The Tories wanted a management review done to examine whether only one post needed to be filled and walked out when that was ruled out.
Group leader Tim Eagle has explained he would be willing to re-enter the administration if council leader George Alexander was prepared to revisit the decision.
However, he says there is "no direct plan" to form an alliance with any other group.
Meanwhile, the SNP has continued to hold talks with all independent members, both inside and outside the administration, and the only Labour member, John Divers.
Co-leader Graham Leadbitter said: "As with any negotiation to form a potential partnership there are a variety of issues that councillors who may be willing to work with us will want clarity on before the commit.
"We are working on this in a positive and constructive way with the aim of being able to form a stable administration to drive the council forward."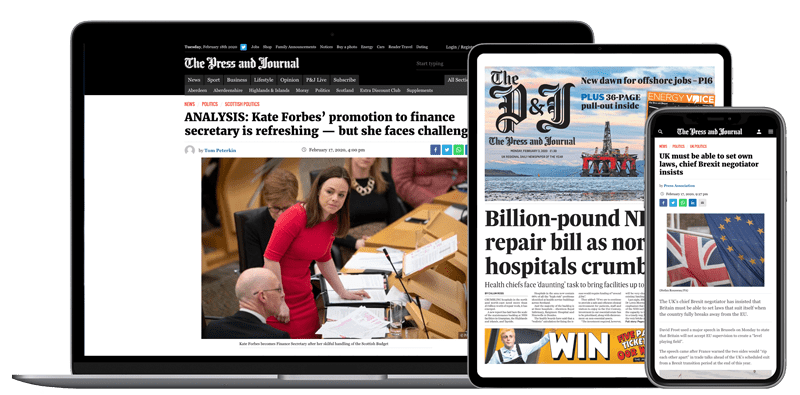 Help support quality local journalism … become a digital subscriber to The Press and Journal
For as little as £5.99 a month you can access all of our content, including Premium articles.
Subscribe