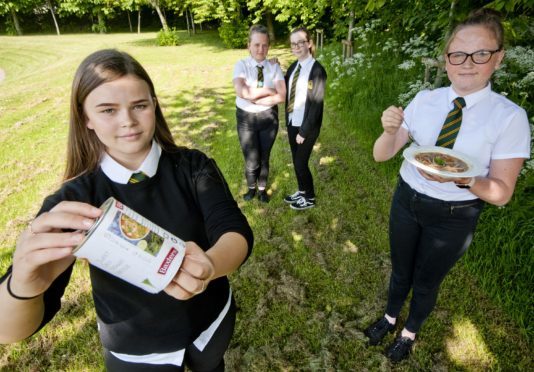 School pupils on Speyside have been tasked by a soup giant to dream up fresh healthy-living recipes.
Students in Fochabers worked with Baxters to learn about the different elements of food production – with the winning recipes due to be produced at the firm's factory.
Yesterday, top chefs from the company were at Milne's High School to sample the creations that had been put together.
Roast dinner soup and a tropical creation, which contained pineapple, were some of the imaginative ideas put forward by the S2 students.
However, two noodle recipes, one based on spicy lamb, devised by Megan Keddie and Dionne Campbell, and the other containing sweet chilli prawn, produced by Emma Morrison and Freya Hughson, were declared as the joint winners.
The young cooks spent the day learning about all aspects of the industry – even creating unique packaging and advertising jingles for their product, which had a tight budget of just 50p worth of ingredients per can.
Freya said: "We started off with the noodles because we knew they were healthy. Everybody has had chicken before so we wanted to do something different with prawn and just kept adding to it."
Megan added: "We really wanted to do something different, something people hadn't done before. It was interesting finding out about what ingredients were classed as healthy and which weren't."
The students spent the whole day yesterday moving between different departments to finalise their product.
The music team helped create jingles, the modern language department assisted creating labelling for foreign markets and the art staff assisted with tin designs.
Warren Lawson, development chef at Baxters, explained the creativity of students was growing every year for the annual challenge.
He said: "Usually we just say 'design a soup', but we were a bit tighter this year by saying it had to be healthy. Even so, I think we will have to be tighter again just to give them something more to think about.
"I've been really impressed by their creativity though. Even considering the budget and the nutritional guidance they came up with some really imaginative recipes."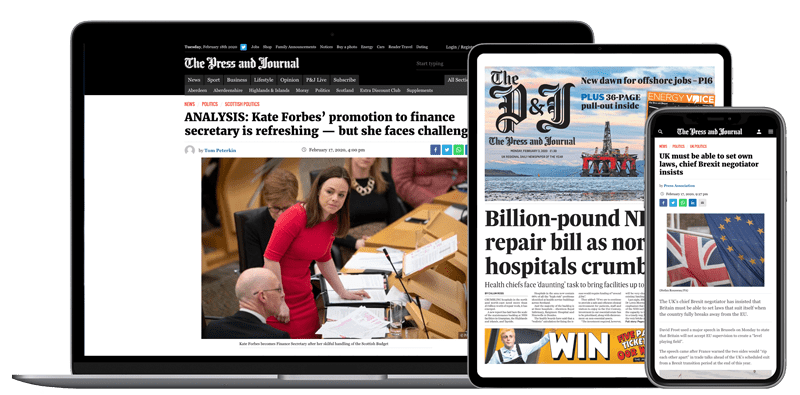 Help support quality local journalism … become a digital subscriber to The Press and Journal
For as little as £5.99 a month you can access all of our content, including Premium articles.
Subscribe