Blundering wind farm bosses could be hit with a convoy bill of up to £180,000 after ordering turbine parts in the wrong size.
Over the last four weeks, there has been major disruption on the A96 Aberdeen to Inverness road as components of the Dorenell Wind Farm have been delivered.
But now it has emerged that six huge parts will have to be sent back as they will not connect into the ground.
Engineers have discovered the huge base parts are unable to be attached to the foundation that has already been set into the ground.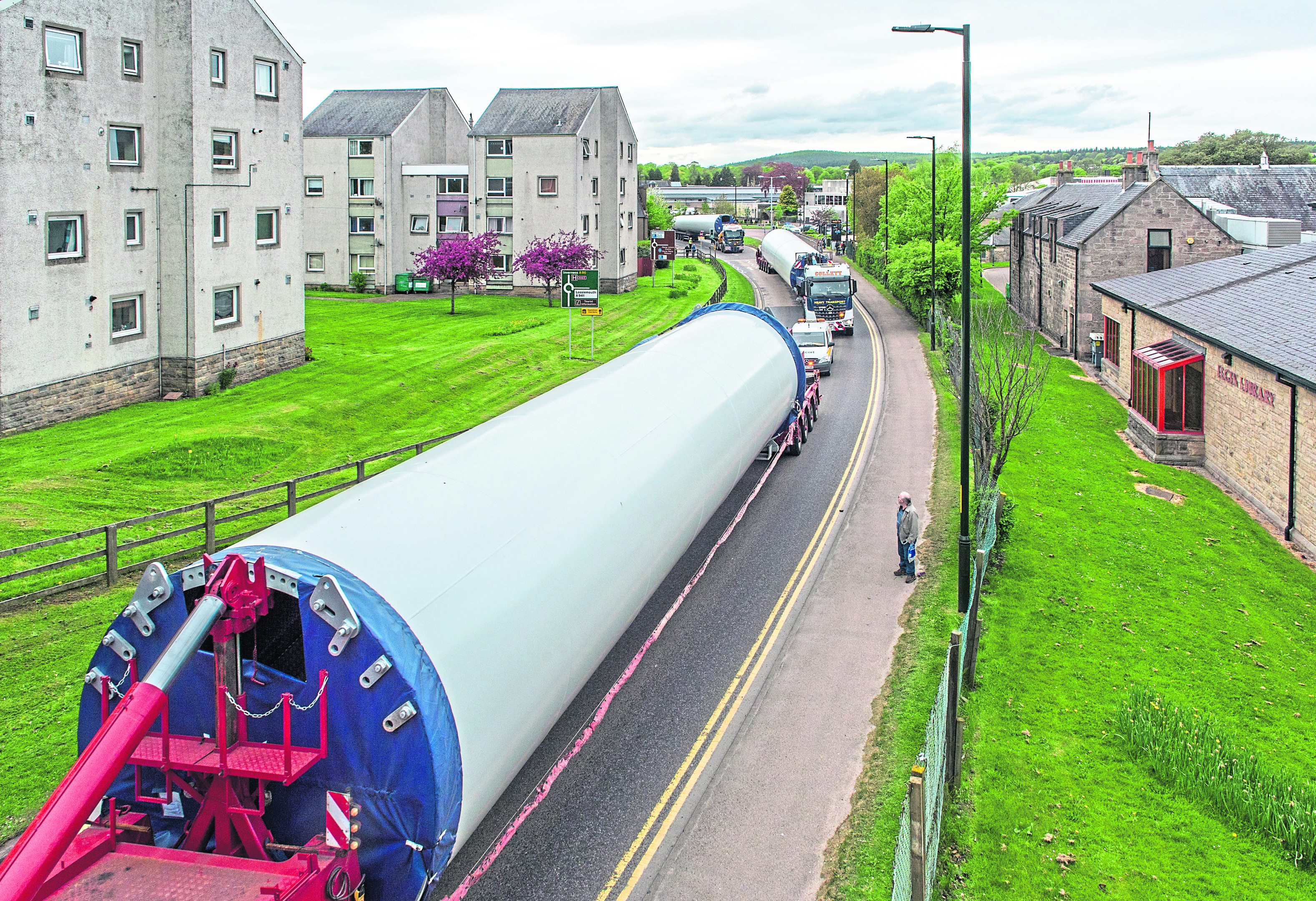 The error is likely to lead to more lengthy tailbacks on the A96 due to the convoys travelling on the route from the Highland capital to Huntly.
Industry insiders believe the blunder could cost EDF Renewables up to £180,000 in extra police and haulage costs.
Last night, energy bosses admitted the mistake would lead to at least two extra convoys heading in the reverse direction.
We're assisting with wide load movements today. Leaving #Inverness now heading along #A9 then #A96 through #Elgin and #Huntly and over to #DorenellWindFarm @InfinergyWind pic.twitter.com/cgjCQhQHi8

— NorthernPolice (@northernPolice) May 21, 2018
Meanwhile, more of the bases arrived in Inverness by boat yesterday. It is not known whether they are the correct size or not.
Parts for the wind farm, which is under construction about five miles from Dufftown, have been shipped to Inverness before being taken by road to the site.
Convoys carrying parts to be assembled into 59 turbines, which will be more than 400ft tall, are expected to continue until November.
Transportation of unaffected components from Inverness to Dufftown is expected to continue as planned.
The heavy load being escorted by road policing officers is now at #Keith. Here are some pics from the start of the journey. pic.twitter.com/i6IbRk6pTL

— NE Roads Updates (@PolScotRoadsNE) May 29, 2018 
The controversial development attracted 640 objections when it was proposed and has survived two court bids from drink giants William Grant and Sons, who own Dufftown-based Glenfiddich, to be blocked.
Work began on upgrading the roads in the rural Cabrach region nearly two years ago in order to accommodate the convoy shipments.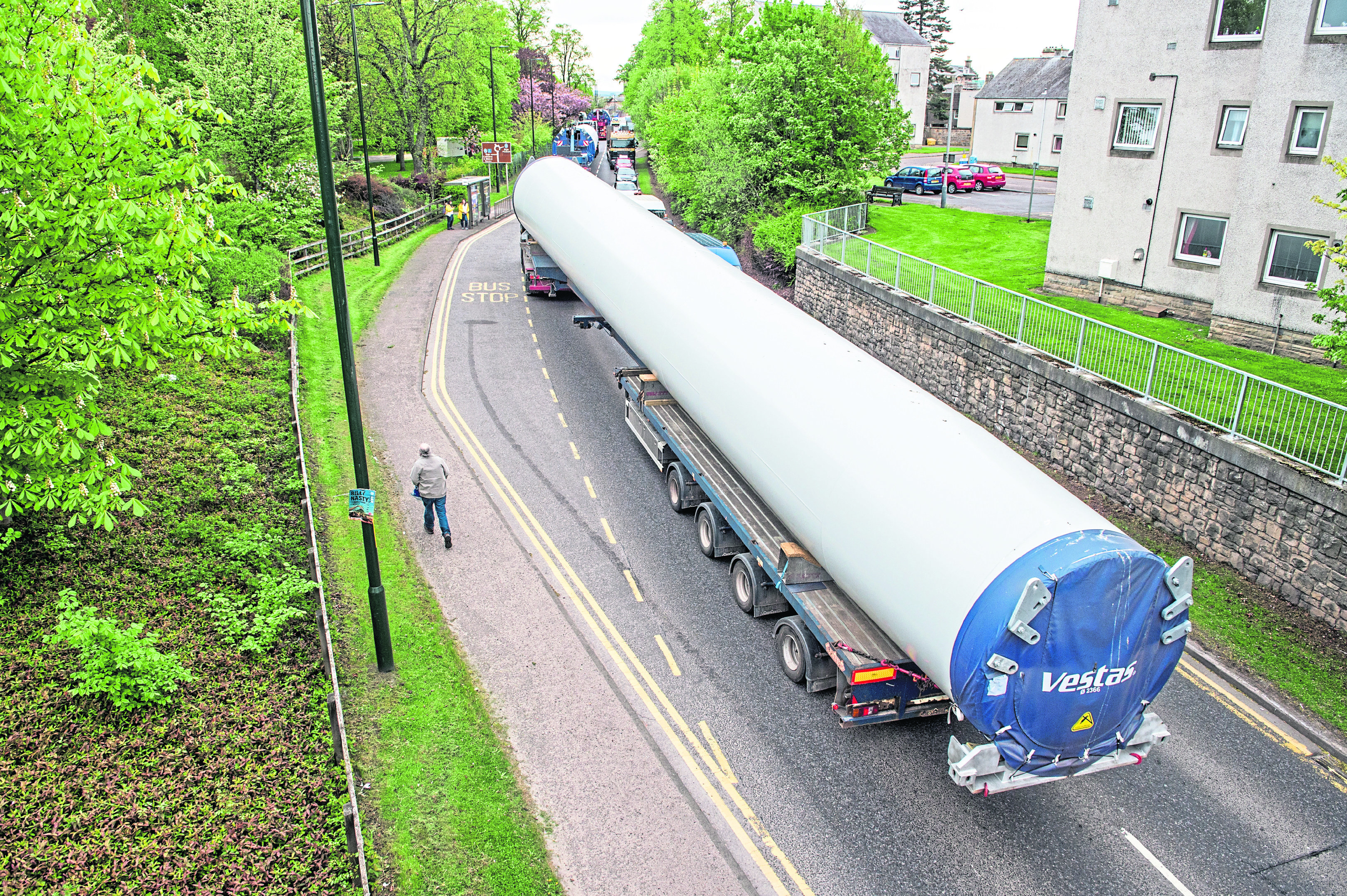 EDF Renewables said last night a contingency plan has already been developed to replace the affected parts.
A spokeswoman said: "Our wind turbine contractor, Vestas, has discovered an issue with the tower bases and has already found a solution.
"Only six affected parts are at the Dorenell site already and will need to be returned from site to the port in Inverness in two to three convoys of transport.
Pit stop just before Huntly. #roadpolicing #wideload #ABZTravel pic.twitter.com/fejJxDzsrs

— NE Roads Updates (@PolScotRoadsNE) May 29, 2018
"We will keep disruption to a minimum and we will let local people know as soon as they have been scheduled. The rest of the deliveries to the Dorenell site will continue as planned."
Video provided by Stoddart Crane Hire Ltd.