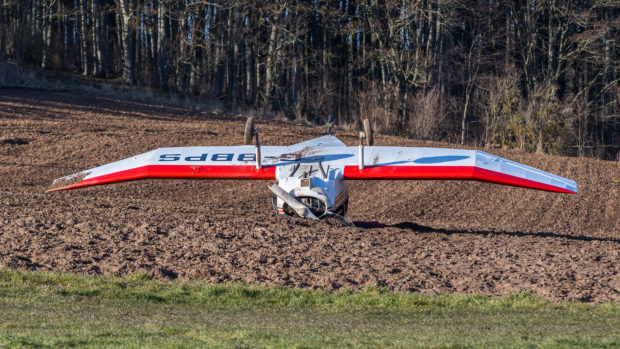 Crash investigators have concluded that an increase in the wind speed contributed to a light aircraft crashing in a Moray field.
The single-propeller plane came to rest upside down in earth at Shempston Airfield, near Lossiemouth, in February.
Now investigators from the Air Accidents Investigation Branch (AAIB) have revealed a change in the weather conditions may have contributed to the crash.
Elgin-based pilot Vic Flett, who runs the Sound and Vision music shop in the town and is a well-known musician in the area, made three attempts to land the plane – aborting each time before trying again.
On the fourth attempt, the plane touched down later than normal on the grass runway, which resulted in a "high ground-speed" combined with the tailwind.
The Societe Aeronautique Normande Jodel D117 aircraft, which dates back to 1957, eventually came to rest upside down in a ploughed field after the landing wheels dug into the soft soil.
Rescuers aided  Mr Flett, who was 68 at the time of the crash, out of the plane. The pilot was then taken to Dr Gray's Hospital in Elgin for treatment for a minor back injury before being allowed home the same day.
The AAIB report has revealed that the plane was damaged beyond repair as a result of the incident.
The investigation report reveals the wind speed had increased from 10 knots to 13 knots during the half-hour flight.
Investigators concluded: "Whilst landing on an uphill grass runway with a tailwind component, the aircraft overran the runway into a ploughed field causing the aircraft to come to rest inverted."
It adds: "During the flight the wind increased to about 13 knots and the pilot made three approaches followed by go-arounds.
"The touchdown on the fourth approach was later than normal which, combined with the tailwind component, resulted in a higher ground-speed.
"The aircraft wheel brakes are not normally used for landing deceleration and the pilot was unable to stop before running off the end of the runway."