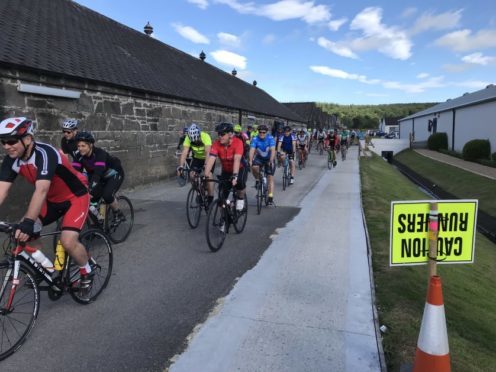 Some 223 cyclists peddled their way round Glen Moray Bike Ride that included a 75-mile, a 25-mile and a 10-mile course.
The cycling event had 132 opting for the 75-mile distance which travelled through Dallas, Grantown, around Lochindorb and through Rafford, and the others for the 10 and 25-mile route, which took in sights including the Califer Viewpoint.
An 89 year-old cyclist was one of four generations in one family group taking part in the event, which was organised by Moray Council, Glen Moray Distillery and the North East Sensory Service NESS, raising money for NESS.
Lovely day out on the @GlenMorayDist bike ride today. Speyside looking stunning in the sunshine and we were very well looked after by all at Glen Moray & @NESSNorthEast. @CoullFay even turned pie thief to bag me an extra one – (or maybe 2) at the finish ??? pic.twitter.com/hlRwb6lc1v

— Colin Sim (@DistilleryBikes) June 24, 2018 
A big thank you was given to all the volunteers who helped to erect signage for the routes, administer the registration desks, and man the refreshments stops and checkpoints.
Moray Council's Active Schools and Sports Development Manager, Kim Paterson, said: "The event continues to be an excellent family day out to help keep everyone active.
"It's fantastic to see we broke the record this year with the number of participants and the most important aspect is that all 223 returned safely.
"We hope we have raised a good amount of money for the very worthwhile North East Sensory Service charity."
The whole community got behind the event with Wave radio provided the entertainment, BC Massage provided some post event recovery massages, Cycle Circles provided free bike maintenance checks and the Highland Cycle Ability Centre delivered a 'come and try' session with adapted bikes.
Refreshments were donated by Tesco Elgin and Gaulds Fruit and Veg Ltd from Portsoy, and first aid was covered by the BCS Group.