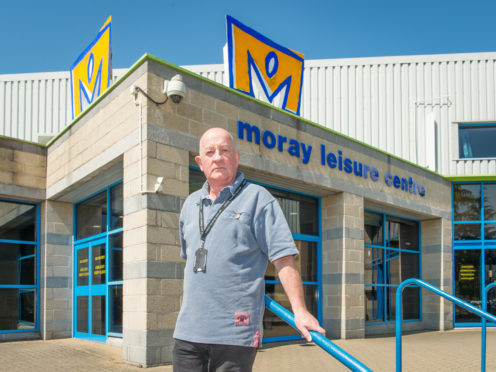 Moray Council will plough £500,000 into keeping a struggling sports facility afloat despite concerns about plummeting visitor numbers.
Councillors met behind closed doors to approve plans to improve the gym at Moray Leisure Centre in Elgin, in an effort to attract more fitness enthusiasts.
The move follows months of speculation about the site, which reached the brink of closure less than a year ago.
Figures have now emerged showing that attendance at the venue fell by 18% over the past year.
And there are fears that the decline could soon become worse, with the £12 million Moray Sports Centre poised to offer competing gym facilities when it opens next year in the town.
Councillors nonetheless believe that Moray Leisure Centre, which hosts the region's only ice rink, can be saved and that revamping its gym with new equipment could be key to ensuring its future.
The £500,000 is to be recouped by reducing the £698,000 annual subsidy the authority gives Moray Leisure Centre by £70,000 for the next several years.
Moray Leisure Centre board member Martin Gray said: "The board are working with Moray Council to redevelop the gym and give the centre a new lease of life.
"This financial deal is a way we can do it that works for both of us.
"It is important that we have first-class health facilities."
Speyside and Glenlivet councillor Derek Ross has pressed for an investigation into the council's involvement with the beleaguered centre.
Last night, Mr Ross insisted it is in the region's best interests to ensure that the venue succeeds.
He said: "I have got some reservations about what happened there in the past, but I don't think we can let a leisure centre go.
"To lose a swimming pool and ice rink would be very sad for the people of Elgin and Moray.
"I am a firm believer in keeping it open. We need infrastructure in the town for a growing population.
"Its closure would mean a loss of jobs, and fewer fitness options for people, so hopefully an improved gym can help increase the numbers."
Confidential papers seen by the Press and Journal detail the nature of the closed full-council meeting.
They reveal that "provisional terms" have been reached with the facility's general manager "for discontinuing his employment".
The report discloses that, in May, the board was urged to address "issues" surrounding the manager's employment within 30 days.
Officers recommended elected members agree to plunging £500,000 into the centre.
Moray Leisure Centre was "days away" from being forced to shut last October, amid claims that running costs were "spiralling out of control".
In May, councillors backed a further plan to ensure it could continue to operate, as a £120,000 cash lifeline won crossparty support.
The sum will be "administered" by the authority and will allow the board to request sums as and when they need them up until July 2020.
Conditions of the agreement were that the board seeks help from Highland and Islands Enterprise and continues to use Highland High Life for "management support".
It is understood that only Keith and Cullen councillor Donald Gatt spoke against approving the funds during the recent meeting.
Mr Gatt has previously described the venue as "a bottomless pit".
Were the £250,000 ice rink upgrades value for money?
The local authority ploughed more than £250,000 into ice rink upgrades at Moray Leisure Centre in 2015 but new figures have revealed that fewer people are using the facility.
When councillors backed the improvement scheme, rink users wept with joy at the surface being saved and predicted a skating boom in the region.
But despite the upgrade, and an annual winter festival in Elgin town centre introducing more people to the pastime, latest figures show that casual ice rink skating and lessons have become less popular.
Overall, the centre's rink and childcare facilities experienced a drop of 25% in attendance from 105,000 in 2016/17 to 77,300 in 2017/18.
However, there was a slight increase in people using the frozen surface for curling.
The number of attendances at indoor sports and leisure facilities across Moray was described as "well down on last year" in a recent council report, with 426,600 attendances recorded compared to 488,000 in 2016/17.
The report states: "Moray Leisure Centre recorded a decrease in casual ice rink skating and lessons, while curling had a slight increase.
"Overall the ice rink and childcare facilities experienced a 25% reduction in attendance."
Attendance data for 2017/18 was reviewed by the Moray Leisure Centre's interim management team and new guidelines have been put in place for collecting usage numbers which will give a more accurate picture of attendances there in the future.