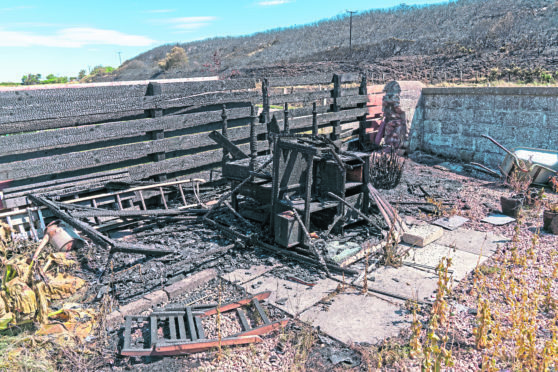 A Moray couple were forced to flee with their two young sons after the Portgordon blaze began to threaten their home.
Fire fighters ushered Barbara Zealand, husband Paul and their children from the house as they tackled the large wildfire.
The family quickly filled a single suitcase and then left their home to its fate as thick and choking black smoke engulfed it.
Fortunately the fire did not take hold of the house but evidence of the fire was clear once it was safe to return.
Their garden was a blackened mess, the fencing gone, a shed a ruin and a chicken run partially destroyed, with one chicken killed.
Mrs Zealand said: "It was frightening, but we are okay and that is all that matters."
The family had thrown open the windows on what was a blisteringly hot day and began to see smoke starting to billow into their home.
"That is when realised something serious was going on.
"We soon discovered the fire brigade were hard at work putting the fire out. They recommended that we evacuate and so we did.
"We packed a suitcase, got ourselves out, moved our cars and left to stay with some friends.
"There was nothing else we could do. By this point you couldn't see anything and couldn't breathe. We just had to go."
Mrs Zealand and her husband were able to check on the house yesterday – as firefighters continued to work in countryside nearby.
They found that the house had not been materially damaged, but had been heavily smoke-logged, while their garden was evidence of how close the flames had come.
"It stinks of smoke and I don't know how we are going to get rid of that, but nothing has been damaged," she said.
"The garden is burnt out, the fencing is gone and there's a shed gone, but we've been so lucky.
"We have seven chickens and we lost one of them.
"That is the only thing that got hurt and we are very thankful for that."
"It was frightening, but we are okay and that is all that matters."