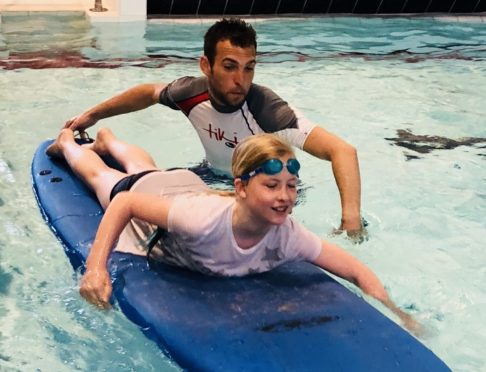 Children with disabilities that prevent them from taking part in sports sessions with their classmates have had their schooldays brightened by embarking on surfing lessons instead.
For generations, youngsters with physical limitations have had to watch from the sidelines as their able-bodied pals improve their fitness during gym classes.
Now a new scheme has been launched at schools in Forres which education chiefs say has "brought out the best" in disabled pupils.
The surfing sessions have been arranged by the Friendly Access charity and the council-run Active Schools Moray group.
Friendly Access surfing instructor Kevin Anderson has taken eight primary school children to Forres swimming pool for lessons.
The youngsters suffer from cerebral palsy, autism, attention deficit hyperactivity disorder (ADHD) and brain conditions like neuro development disorder and dyspraxia.
Many of them have muscle weakness and poor co-ordination and balance, which rules out most sporting pursuits.
But the "person centred" swimming and surfing lessons offered by Friendly Access have been tailored to suit all abilities and incorporate flotation aids, flippers, fins, masks, toys and hoops.
The sessions on surf boards in the pool have introduced a "completely new experience" for the children and organisers hope the experience will get the youngsters ready for trying surfing out in the sea.
Active Schools coordinator for Forres, Rosalyn Carruthers, said the project had even helped some pupils overcome a fear of water.
She said: "These sessions provide a unique opportunity for children to be active and gain essential skills in the water.
"Our volunteers bring out the absolute best in the children.
"Each week there is progress and this extends into the classroom and at home.
"The staff throughout the school are noticing the calming effect these sessions are having on the children."
One parent explained the impact on her daughter.
The mum said: "She organises her swimsuit, t-shirt, shorts and towel herself the night before swimming.
"She tends to have to be reminded constantly about things and so it's very obvious how important this is to her."
Mr Anderson added: "I sometimes forget how challenging life with conditions and disabilities such as the ones our participants live with can be and the importance of sessions like these to give them the opportunity to take part, achieve and have fun."