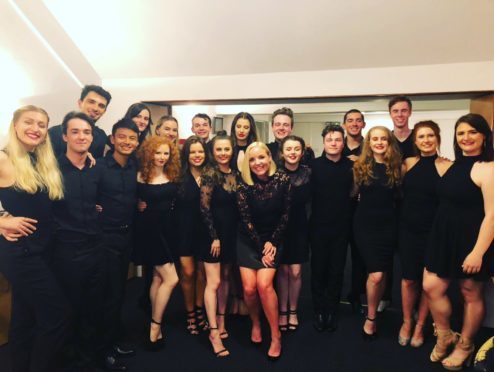 A young aspiring singer from Moray realised her lifelong dream after getting to perform with one of musical theatre's biggest stars.
Lori Davidson, 20, grew up appearing in shows for the local St Giles Theatre Group before going to study at the prestigious MGA Academy of Performing Arts in Edinburgh.
The Elgin-born performer was given the opportunity to provide backing vocals for West End and Broadway star Kerry Ellis during her 20th anniversary concert at The Queen's Hall in Edinburgh.
Mrs Ellis has previously performed in famed musicals such as Wicked, We Will Rock You, My Fair Lady, Miss Saigon, Oliver! and Les Miserables.
An Elgin Academy alumni, Miss Davidson was thrilled to work with such an inspirational star.
She said: "Kerry Ellis is an incredible vocalist and she has been in all my favourite musicals. Performing alongside her was an amazing experience and I still can't quite believe I got to sing with her.
"After the show, she spent some time chatting to us and hearing her talk about how she got to where she is today was really inspiring."
The twenty-year-old is currently training for a for a BA (hons) degree in Musical Theatre at the MGA Academy and decided to apply for a place there two years ago as she wanted to stay in Scotland while studying at a level equivalent to prestigious London performing arts colleges.
She said: "I decided to apply for a place at The MGA Academy because I knew a lot of people from Elgin who had trained there and they've all gone on to get great jobs.
"When I received my acceptance letter, I was so excited and couldn't wait to get started and I have loved the course so far."
Mrs Ellis praised the students from MGA Academy who helped with the concert.
She added: "Performing my 20th anniversary show in Edinburgh was great as I love performing there and am always welcomed with such warmth.
"I was honoured to have had students from The MGA Academy join me onstage as I have always been a huge supporter of the work they do.
"I was impressed with how professional all the students were and loved how much fun they brought to the show."