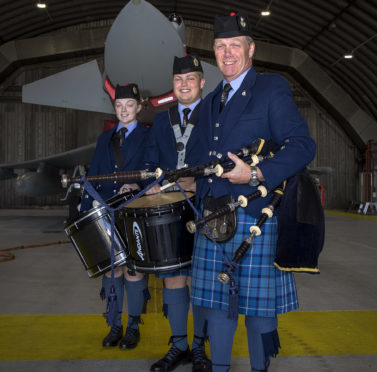 Around 200 RAF Lossiemouth personnel are heading to London next week to help celebrate the 100th anniversary of the Royal Air Force.
The UK capital will play host to a parade of 1,000 RAF crew members on July 10, while another 300 of them will be lining the route.
The diverse roles played within the institution over the generations will be showcased throughout the event.
Following the parade, up to 100 RAF aircraft will perform a flypast on an epic scale over central London.
This will be the largest concentration of military aircraft seen over London in recent memory, with the formation passing over Buckingham Palace at 1pm.
The event will also be a family affair for people such as Sean Allen, an Aircraft Maintenance Mechanic, who will be taking part in the RAF parade along with his dad and sister – as all three will be playing with the RAF Pipes and Drums.
Sean, his dad Geoff, and sister Jodie, all play with the RAF Lossiemouth Pipes and Drums and have been selected to form part of the musical accompaniment on July 10.
Geoff, who was a Warrant Officer at RAF Lossiemouth and left the RAF recently after 37 years' service, said: "I am extremely proud to have served in the RAF and now have a chance to be part of this historic event."
Sean's daughter Jodie is a student at Elgin Academy and a member of the Air Cadets and she added: "I am really proud to be part of such a memorable day, representing the Air Cadets.
"And taking part with my dad and brother makes it even more special."