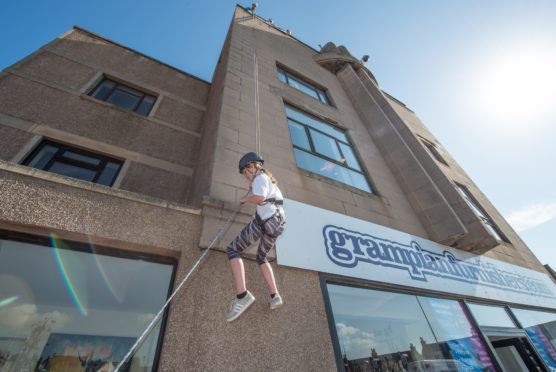 Daring souls have raised hundreds of pounds for good causes after dangling themselves off an iconic Moray building.
Scores ventured to the top of the 50ft Grampian Furnishers building on Saturday to abseil down it for good causes.
Over the course of the day, money was raised for community groups including schools and charities.
Several also opted to donate to outdoor learning and adventure charity Outfit Moray, which organised the event.
Karen Cox, its community and corporate fundraiser, said: "It was a very good community day and we had gloriously sunny weather.
"Lots of local charities were able to do some fundraising."
Last year Outfit Moray issued an urgent appeal for money, warning that it needed to close a £50,000 funding gap in order to stay open.
The Lossiemouth-based charity has helped more than 14,000 youngsters since it was founded 13 years ago.
Mrs Cox said: "The local community really got behind us.
"We work with all children in Moray so nearly every person has a connection with us in some way.
"Everybody really came together and helped us in so many ways, so when we decided we were going to do another abseil we thought it would be very important to give back to the community and offer some charity spaces.
"It can be very difficult for local clubs, charities and community groups to be able to fundraise and find different things to do without just asking the same people for money over and over again."
She added: "It was really good to see lots of support and people coming down to see the abseil.
"It was fantastic."
Outfit Moray is continuing to fundraise and has devised schemes including a clothing bank and lucky number draw to raise funds without costing its supporters a fortune.