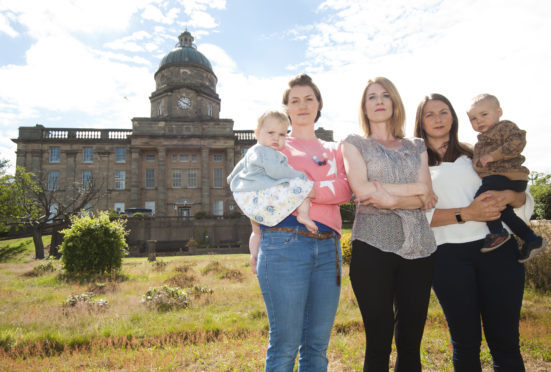 A campaign group has claimed NHS Grampian's plans to downgrade Moray's maternity services have been "ill-thought out" and are putting lives at risk.
The health board has continually struggled to recruit staff to Dr Gray's Hospital in Elgin, and last week announced an overhaul of the maternity unit.
It means women with medium and high-risk pregnancies, who need more expert staff on hand, will be sent to Aberdeen or Inverness instead.
Last night, the controversial plan was been described as "unsafe" by the Keep Mum campaign group – who claimed the health board had failed to offer any reassurances about the safety of the service.
Meanwhile, more than 10,000 people have signed a petition calling for a rethink on the changes, which are due to come into effect on Monday.
Keep Mum say one of their biggest concerns is around the uncertainty over who will be able to give birth in Elgin.
Pregnant women could be forced to travel from Elgin to Aberdeen to have their babies
A spokeswoman for the group claimed: "NHS cannot confirm if there are sufficient staff and beds at Aberdeen and Inverness to cope with the extra patients who would ordinarily be treated in Elgin.
"There is no information about how an already overburdened ambulance service will cope with transfers of women in labour and no provision for women who do not have access to transport to take them to Aberdeen and they cannot confirm whether any emergency or lifesaving surgery can be undertaken at Dr Gray's from July 16.
"We feel that the safety of mothers and their babies is going to be severely compromised. The lack of answers from NHS Grampian demonstrates the fact that no strategic planning has gone into this quickly-made decision."
An NHS Grampian spokeswoman last night insisted their priority remained keeping women and their babies safe, and stressed talks with soon-to-be mums were already under way.
She said: "Our priority at all times is to provide a safe and sustainable service for women and their babies. The process of discussing options with people on an individual basis is now well under way -midwives continue to get in touch with women, particularly those due to birth within six weeks being the immediate priority.
"As announced at the end of last week, women who are booked to give birth at Dr Gray's will now be able to be transferred to Raigmore Hospital in Inverness if, following clinical assessment during labour, birth or after delivery, the need arises for care to be referred to a consultant level unit. Our positive and constructive discussions with NHS Highland continue in an effort to develop robust choices for women as workforce safely allows."
On Saturday, a protest against the changes will be held on the Plainstones in Elgin High Street at 12pm.
And some of those who have signed the petition shared their concerns online.
Mum-to-be Sinead Paterson wrote: "As an expectant mother, I find these plans very worrying. I do not think it is safe for my baby or myself to have to travel a 60 or 90 minute journey if there are complications. Anything could happen in that time with irreversible consequences. This is putting lives at risk."
Karen Wood added: "Mothers and babies lives are at risk with the proposed plans. Aberdeen is already stretched and women will struggle to get there in an emergency especially if they are having to come from over two hours away. Elgin's maternity unit is vital to the safe delivery of these babies it can't be downgraded."
And Ryan Main posted: "Having seen my wife endure complications with both of our children's births, the comfort and reassurance together with the utmost professional care at Dr Gray's is undoubtably the reason why both children are here today, both happy and healthy. To create further undue stress and put further strain on the resources elsewhere is unacceptable. The staffing issue has been around for some time now and urgently requires resolution not just discussion."