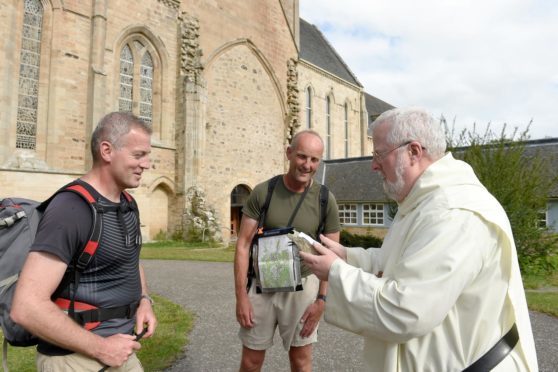 Pilgrims have returned to Moray after recreating the journey the monks that reformed a celebrated place of worship made seven decades ago.
Yesterday Al Monkman and Andy Wallis completed the 800-mile journey from Prinknash Abbey, near Gloucester, to Pluscarden Abbey near Elgin.
Monks from the English monastery travelled to the north of Scotland to restore the buildings in 1948, which had lain in ruin for three centuries.
Now their journey has been recreated as part of the 70th anniversary celebrations of the reformation of Pluscarden.
Monks from the abbey were at the doors to greet Mr Monkman and Mr Wallis and their dogs Rinnes and Bailey as they took the final strides of their 39-day expedition.
The trek follows a similar pilgrimage last year – where walkers retraced the steps from Val des Choues in Burgundy, France, where the original monks from Pluscarden came from nearly 800 years ago.
Mr Monkman said: "It really has continued on from last year. We really wanted to keep the appeal going and the 70th anniversary of the reformation is something worth celebrating."
Mr Wallis added: "The generosity from everyone was amazing. The appeal of Pluscarden was noticeable too. People would stop us to ask why we were walking and when we told them it was related to the abbey they wanted to give us money."
The Prinknash monks arrived in Moray in April 1948 but formal celebrations are planned for later this year in September – which will be the anniversary of when the abbey was deemed habitable again.
Cash raised to commemorate the seven decades of Pluscarden Abbey will help fund the latest restoration project.
Plans are being drawn up to create a new women's retreat at the abbey, a heritage centre and a library – which are expected to cost a total of £2million.
Lord Lieutenant of Moray, Lt Col Grenville Johnston, who is chairman of the appeal, welcomed the walkers back through the gates.
He said: "This wasn't really a fundraiser for us. It was something Al and Andy wanted to do to mark the anniversary, which is a nice thing to do.
"We're still accumulating at the moment but the big events will be later in the year and we'll get busier through the rest of the summer."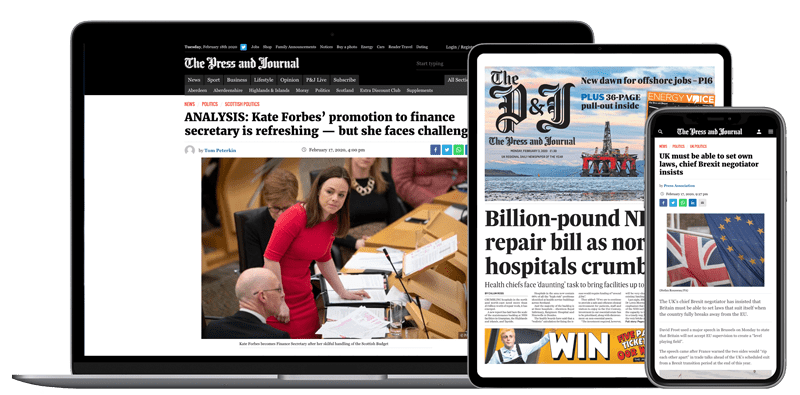 Help support quality local journalism … become a digital subscriber to The Press and Journal
For as little as £5.99 a month you can access all of our content, including Premium articles.
Subscribe