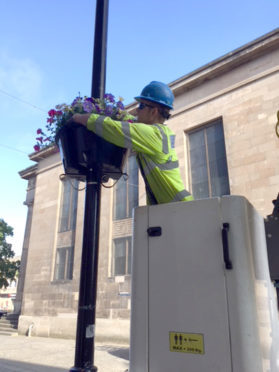 Flower baskets have been hung in a Moray town centre in an effort to add extra colour to the area during the summer.
The floral displays in Elgin have been supported by the town's business improvement district (Bid), community council and the volunteer group Spice.
It is hoped the extra greenery in the historic heart of the town will encourage shoppers to spend longer in the area during the school holidays.
A lending hand was given to the project by Scottish and Southern Electricity Networks (SSEN) after Moray Council leader Graham Leadbitter asked the firm for help.
The power company offered support with specialist equipment and staff from its depot in the town.
Gill Neill, manager of Elgin Bid, said: "We know that having baskets in the centre will make a huge difference to how people view and use it.
"The help from SSEN was very useful, physically getting the baskets in place was a bit of a challenge and their support has made a huge difference."
Baskets have been hung in the town centre from lamp posts with flowers potted inside to provide natural beauty outside historic buildings.
SSE's Shona Horn said: "Our teams really value the chance to volunteer in the communities in which they live and work.
"Offering our more specialised equipment can ease potentially challenging situations for our communities and I hope residents and visitors will enjoy the difference the hanging baskets make."