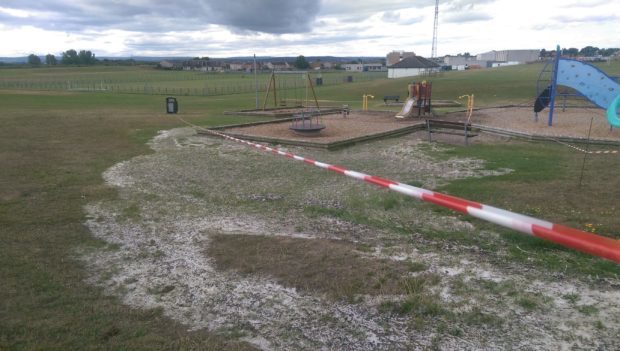 A popular Moray play park has been sealed off after smelly drain water poured down a slope into the site which is used by children.
An area with swings, a roundabout and a slide have been cordoned off in Lossiemouth until the dirty water has been cleared up.
Yesterday, the grey substance remained on the ground at the facility, which is situated near the town's high school on Coulardbank Road.
Officials from Scottish Water are due to visit the site in the coming days in order to clear the grass and clean the play equipment which has been affected during the incident.
It is believed that the water poured down the slope into the park from a sewer that had overflowed from a nearby block of flats.
Parents have described the smell of the water, which has hardened on the dry ground, as being both "nasty" and "vile".
One of them said: "With this being the summer holidays, obviously the park is in high use and I am worried about any health risks to children and dogs that this may pose."
Moray Council has confirmed that the play park will remain sealed off until a clean-up operation has been carried out by Scottish Water.
It is understood that the incident which led to the water pouring in the site happened on Friday.
Scottish Water confirmed it was investigating the incident.