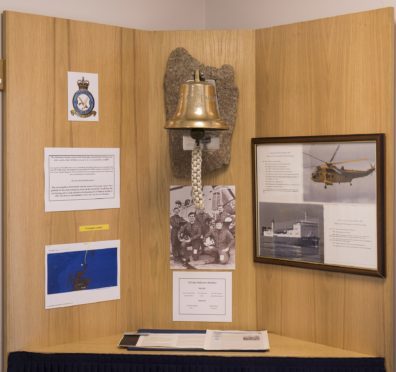 A replica bell from a stricken Swedish cargo ship has been rehoused at RAF Lossiemouth.
The MS Finneagle was caught in terrible weather in October 1980 on its way back to Sweden and this caused the vessel to catch fire.
Crew from the RAF Search and Rescue (SAR) team were dispatched to rescue those who were stuck on board.
The captain and crew members of the MS Finneagle were forced to survive for several hours on the burning ship in severe weather before they were eventually saved by the SAR team in a heroic and dramatic event.
Overall, the rescue took three hours to complete, with all 22 people on board the vessel plucked to safety.
Owners of the vessel presented the bell to the SAR crew as a mark of gratititude for the efforts of the RAF personnel who took part in the rescue.
The team's efforts were also recognised by the award of several bravery medals to each of them.
With the closure of the RAF Search and Rescue service, the Finneagle bell has been passed on and rehomed at the Quick Reaction Alert facility at RAF Lossiemouth.
Group Captain Jim Walls, Station Commander at RAF Lossiemouth, said: "The Finneagle bell represents the the heroic efforts of the RAF Search and Rescue crew who showed extraordinary bravery and tenacity to rescue the 22 people on board that ship all those years ago.
"It's very apt that we still have the bell here at RAF Lossiemouth, and housed in a place where RAF crews are still on standby 24/7 to protect the people of the United Kingdom."