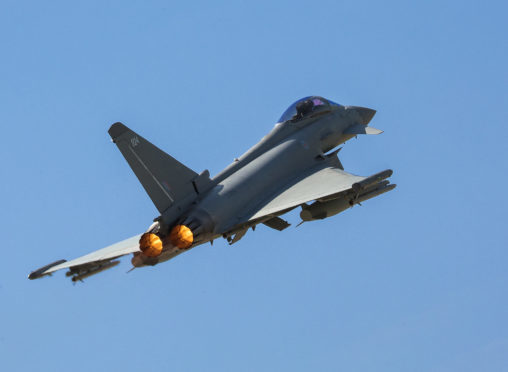 North-east air crews based in Romania have been scrambled to intercept a Russian bomber flying over the Black Sea.
Personnel from RAF Lossiemouth are currently based in Eastern Europe as part of a mission to protect Nato airspace from intruders.
Four Tyhoons from the Moray base are stationed near Constanta on the Black Sea coast until the end of August.
The jets were scrambled to escort a Russian spy plane that was approaching Romania within days of the crews arriving in May.
Now the Ministry of Defence has revealed that pilots from Lossiemouth-based 1 (Fighter) Squadron were scrambled again on Tuesday to intercept a Russian Su-24 Fencer supersonic aircraft.
The pilot said: "When we received the message to scramble, we sprinted to the jets with our engineers, fired up the aircraft and took off all within a matter of minutes.
"We were then vectored toward the unknown Russian aircraft who were close to infringing NATO airspace.
"The Russian aircraft did not enter NATO airspace so we were ordered to patrol the skies for a short period of time as a deterrent.
"We routinely conduct air policing in the UK so the event is familiar and went seamlessly."
The RAF Lossiemouth crews are currently taking part in Nato's Enhanced Air Policing mission, which involves allies taking turns to monitor the Eastern European border for intruders.
Canadians are due to take over from the British deployment at the end of August.