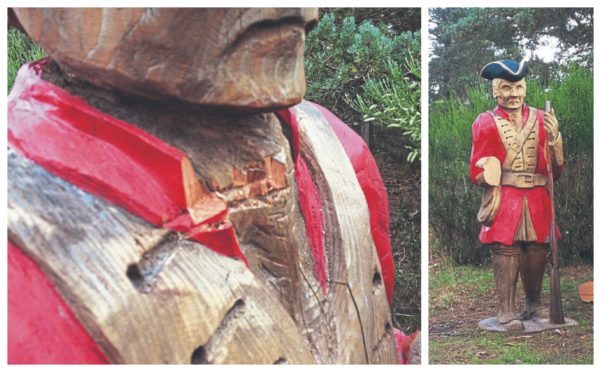 There are fears a picturesque part of Speyside has become "a hot spot" for vandalism after significant damage was wrought on a sculpture erected to remember a historic battle.
The dragoon statue on the Dava Way between Forres and Grantown has been repeatedly targeted since it was erected – losing a hand in the latest and worst attack.
Trustees believe the clean cut means someone has taken the trouble to saw the hand from the wooden Red Coat.
Scratch marks are also visible across the soldier's throat and at the back of the back of its head, suggesting attempts had been made to decapitate it.
The statue cost "hundreds of pounds" to put up as part of a project to commemorate historic stories fought in the region.
It has since become popular with walkers who stop to pose for photographs with it, but sadly other passers-by have had more sinister interactions.
The sculpture was previously attacked about two years ago when its wooden musket was removed.
Yesterday, Peter Mitchell, a trustee of the Dava Way Association, described the area surrounding the dragoon – about five miles north of Grantown, near Cromdale – as a "hot spot" for vandalism.
He said: "It's very disappointing when things like this happen.
"To my mind, it would have to be somebody pretty moronic to do something like that.
"It was funded through grant applications and fundraising and has been very popular.
"The hand was taken off in a clean break so should be able to be repaired easily.
"I doubt anybody would ever own up to doing something like this."
The Red Coat sculpture was erected on the Dava Way track to commemorate one of the most significant marches in Scottish history, on the eve of the Battle of Cromdale.
Government foot soldiers left lodgings at Brodie Castle in April 1690 to make their way to Dava Moor in order to surprise the Jacobite army during the first uprising.
The dragoon now stands on the track that was believed to have been used for the journey.
About 300 of the 1,500 clansmen were killed in less than half an hour during the battle, which took the Jacobite cause about 25 years to revive from.
It is believed that the vandalism to the statue was caused before 8am on Saturday.