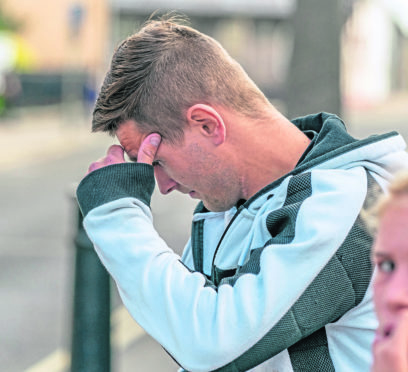 A drunk Forres man fled naked into the night after entering a stranger's home uninvited, undressing and attempting to sleep in their bed.
Shaun Grant was chased out the shocked owner after they discovered him a short time later, leaving his clothes behind as he ran.
The 22-year-old's night descended into chaos after he was ejected from a local pub for acting in "an aggressive and threatening manner".
He bellowed "Don't you know who I am, I'm Shaun Grant" at staff as he gesticulated at them with a pint glass and threatened pals with a bar stool.
Fiscal Anna Chisholm told Elgin Sheriff Court: "The accused was in Legend Bar on Forres High Street when he began acting in an aggressive manner towards two of the men he was with.
"After bar staff asked him to be quiet for a second time, he raised the bar stool above his head and towards the men.
"He was then asked to leave the premises, but instead leaned over the bar holding his pint glass above his head in a way the bar staff found threatening." Grant's drunken bravado disappeared as staff called the police, however, and he swiftly left the bar before they could arrive.
Matters took a stranger turn, however, when a short time later he gained entry to a property on the town's Market Street and took his clothes off before climbing into a bed.
The shocked home owner, who was unknown to Grant, found him there a short time later, undressed and lying on the bed.
He repeatedly refused to leave, but was eventually chased off, leaving his clothes behind.
The police were again called.
Defence solicitor Robert Cruickshank said his client's actions occurred when he was drunk and asked the judge to keep this in mind when sentencing him.
Grant, of Tytler Street in Forres, pleaded guilty to two charges of behaving in a threatening and abusive manner on September 14 last year.
He received a 12 month supervision order, which included a requirement that he seek treatment for his problems with alcohol.