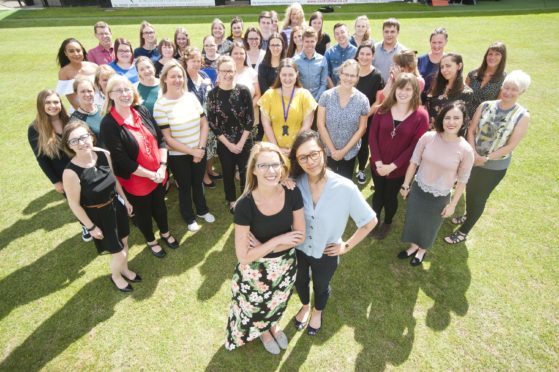 An army of trainee teachers are poised to enter Moray's classrooms next week as children return from the summer holidays.
A haul of 46 newly qualified teachers (NQTs) will be spread across the region's schools to support students over the next year.
The region has struggled from a recruitment crisis in recent years, which in the most difficult of times has seen pupils having to be sent home from class.
It's hoped the influx of 30 primary school teachers and 16 secondary school teachers will make a real difference.
The number of new recruits represents an increase of about 10 on last year's recruits – with the amount of secondary staff doubling.
Yesterday, the teachers were getting final instructions from the council's education department before entering the classroom.
Sophia Chin, who will be teaching at Hopeman Primary School, has decided to enter teaching after leaving Elgin as a teenager to study in Canada, before spending 10 years working as an interior designer in London.
She said: "When I left school teaching and the arts were both in my mind but I decided to go down the graphic design route then.
"Time's moved on though. I've had three kids and I decided to move back home again to be close to family so teaching really came along at the right time.
"I still remember my own primary school teachers and the chance to make a difference in a child's life was a big attraction."
Jane Dunbar, who will be teaching at Burghead, combined studying while working in Highland Council's education department.
She said: "I've always been working with children. It's something I've always done. Being able to study part-time made it possible to keep working while I did it."
The NQTs have completed their university learning in order to become teachers and will now spend a probationary year in Moray before becoming fully qualified.
Last night, Sonya Warren, chairwoman of the council's children and young people's committee, was hopeful many of the NQTs would remain in Moray once their probationary year was complete.
Last night, Moray Council's convener, Shona Morrison, was hopeful that many of the NQTs would remain in Moray once their probationary year was complete.
She said: "I'm absolutely delighted to see that we are lucky enough to have as many as 46 NQTs who are going to be starting with us this year – and that many of them have specifically chosen to work in Moray.
"Hopefully our message of positivity about the region and the benefits of living and working here will encourage as many of them as possible to stay."
Moray Council has tried several initiatives in order to entice teachers to choose to work in the region.
Relocation packages are offered and rent-free accommodation has been trialled in the past as an added incentive.
However, the lure of working in the Central Belt has repeatedly been blamed for the authority struggling to fill vacancies.
Two of this year's cohort of NQTs believe that Moray has the natural ingredients to be an ideal teaching environment as well as an attractive place to work.
Michelle Anderson, who will be teaching at Seafield Primary School in Elgin, said: "I don't know why more people don't consider coming here because it's a fantastic place to live and work.
"You've still got the benefits of town-life while being right next to the countryside and just an hour away from the ski slopes. The community spirit is really strong in the schools too."
Kirsty Franklin, who will be teaching at Elgin's St Sylvester's Primary School, said: "I've been working in a nursery but teaching is something I've always wanted to do since leaving university.
"This is really the best place for me to pursue my career. I love being outside, it really suits me down to the ground."