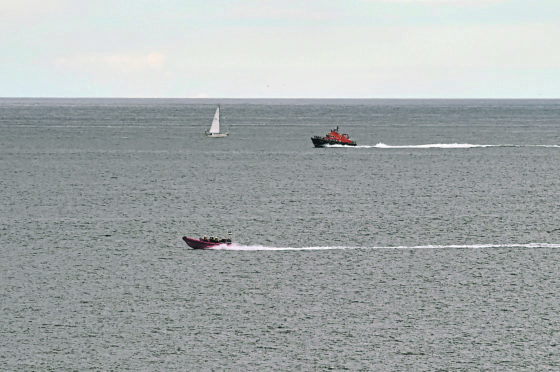 Police yesterday hit out at the "malicious" actions of a hoax caller who sparked a four hour search putting lives at risk in the North Sea.
Coastguard rescue teams from Macduff, Buckie, Banff and Portsoy were joined by three RNLI lifeboat crews to search an area along the coastline between Gardenstown and Whitehills.
The coastguard search and rescue helicopter based at Inverness was also scrambled to the scene.
The Aberdeen Coastguard team received a mayday call claiming that people were in difficulty in open water shortly after 1pm.
Crews launched a search which was stood down later in the afternoon once it was established to be a hoax call.
It's thought to be the eighth malicious call made to staff working at the centre in the city this year.
Macduff councillor Mark Findlater said the suspected prank was "deplorable."
He said: "This is terrible because it is taking these lifeboats away from what they should be doing.
"It is a deplorable action by somebody causing the safety of others to be at risk.
"These volunteers are called out and there could be a proper call that comes in.
"If anybody knows any information at all please get in contact with the police.
"It is a heinous thing that somebody has done."
Crews spent four hours trawling the water to make sure no-one was in danger and in need of being rescued. They returned to the mainland shortly after 5pm.
Richard Menard, chairman of the Banff and district community safety group, also hit out at the prankster, branding it a "stupid thing to do".
He said: "It is disgraceful.
"Why somebody should need to do that is beyond me and it should be condemned.
"It is a waste of valuable time and money.
"It is a stupid thing to do and it is not funny. These people should be prosecuted, named and shamed."
The distress call came in the day after the Press and Journal exclusively revealed that coastguards in the north-east, particularly Aberdeen, have been plagued with hoax calls.
There have been 50 False Alert, Malicious Intent (FAMI) calls made to the Granite City-based operation centre since 2014.
Volunteer RNLI crews and coastguard staff have wasted their time on several false incidents this year.
Local police inspector Megan Heathershaw said: "Obviously any distress call made to the coastguard has to be taken seriously, often leading to an intensive search utilising significant resources given the immediate threat there might be to someone's life.
"When it turns out that a call has been made with sinister intentions, the coastguard's precious time has been wasted which could have prevented someone who really needed help from getting it.
"These types of calls are malicious, expensive and beyond belief therefore each one is thoroughly investigated and every effort made to identify the person responsible.
"Enquiries are ongoing into this particular incident and anyone with information is asked to contact Police Scotland on 101."