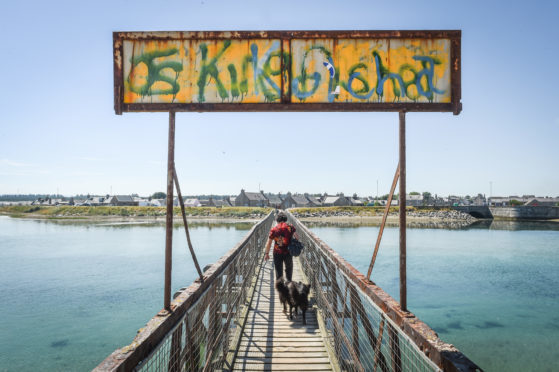 A Lossiemouth group has launched a campaign to raise £10,000 to save an ageing bridge.
Lossiemouth East Beach Bridge is the only easy access passageway to the beach, but it is becoming so corroded it may be rendered unusable within a few years.
Now Lossiemouth Community Devemopment Trust (LCDT) is seeking £10,000 to carry out a full structural survey and an options appraisal report in an attempt to save it.
The group would also like to take responsibility for the steel crossing, but cannot do so without public liability insurance – which they can only get if it is fixed.
A Crowdfunder has been set up to help them reach their ambitious target.
Huw Williams, LCDT development manager, said that the group commissioned a report that indicated that "in three to five years the bridge may have to close because it will not be structurally safe to hold people."
If they manage to raise the cash, they report will then allow them to apply for funding to fix the bridge.
Mr Williams said: "We're a bit stuck at moment because we can't apply for funding because we don't know how much it will cost to repair it. A lot of funders have said they will give us money but need to know how much we want.
"The bridge is technically owned by the Crown Estate but they want nothing to do with it, so if we don't take it up no one will."
Heldon and Laich councillor Ryan Edwards believes the bridge is vital to the people of Moray.
He said: "I think it's absolutely vital to the people of Moray that its retainted in any shape, whether a new bridge is installed or its repaired up to standard.
"It's part of the coastal route between Lossiemouth and Grantown and the amount of people who use it over the summer is massive."
Moray Council previously refused to give financial support to the LCDT but have helped by offering their expertise and guidance.
To help save the bridge, visit www.justgiving.com/crowdfunding/lossietrust