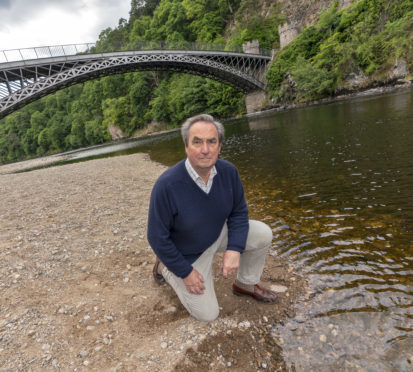 Production at a north-east salmon hatchery will double in an attempt to save next year's angling season on one of Scotland's most famous rivers.
The Spey Fishery Board had ruled out reopening a similar facility near Ballindalloch just last month following emergency talks with gillies and landowners – instead opting to lobby the Scottish Government for support to promote angling.
However, now the group has performed a U-turn and announced it will increase production at its own Sandbank hatchery near Glenlivet to its full capacity of one million eggs.
The board said the decision has been prompted following consideration of the effect the current "particularly difficult" season has had on those who depend on the river – which has resulted in some clubs report salmon catches at just a fifth of last year's total.
Government studies have estimated the value of angling to Speyside communities at nearly £12million. However, Moray Speyside Tourism believes that total "undervalues" its impact.
Last night, Moray MSP Richard Lochhead warned industries across the region could suffer unless action is taken to reverse the river's fortunes.
Spey Fishery Board chairman Brian Doran said a "carefully considered stocking plan" for Sandbank would be drawn up to increase the amount of salmon in the river.
He said: "We remain very concerned about a number of issues which have contributed to a significant decline in the numbers of adult salmon returning to the river, mainly issues in the marine environment.
"The board has carefully considered the scientific advice regarding the use of hatcheries and balanced this against the commercial interests of all stakeholders along the river.
"These include not only the livelihoods of those directly employed on the river but also the many local businesses that depend on angling tourism to sustain them."
It is believed that the dry summer, which has seen water levels in the river drop to those last seen in 1976, has contributed to the drop in fish numbers.
The Scottish Government has recently announced a £500,000 project to examine other reasons for declining stocks – including fish farming, forestry, barriers that prevent migration and illegal poaching.
Experts will begin collecting the required salmon broodstock for eggs from October before the fish are reared and released into selected locations on the Spey and its tributaries.
Concerns about the fish becoming too "domesticated" and the river's conservation status had prompted the board's decision to rule out reopening the hatchery at the Tulchan Estate near Ballindalloch – a move which prompted accusations of "inaction" from the fishery board by gillies.
Mr Lochhead said: "We must do all we can to protect what is a vital economic and tourism related sector in Moray.
"Angling on the Spey is a key economic driver and we need to continue to attract anglers because everyone from hoteliers to the local butcher as we as the gillies and many others who are dependent on them will suffer if we don't take action.
"Some of the challenges facing the Spey are not unique given that Scotland's other major salmon rivers are in a similar position but I welcome all efforts to explore how to maintain a healthy and well-resourced river."