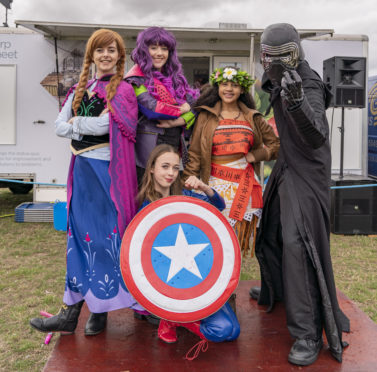 Hundreds of bubbles have been sent into the air to remember a popular Moray youngster who died from cancer.
Loved ones of Logan Main, from Lossiemouth, joined with families of other children who have faced a similar battle to celebrate their lives.
The poignant tribute was launched into the sky in advance of a fun day yesterday, which was the 10th anniversary of Logan being diagnosed with neuroblastoma.
People dressed as superheroes and princesses joined the crowd at the playing fields while singer Jada Louise performed Andra Day's touching song Rise Up, which was requested by Logan's parents Christopher and Angela.
Cameron Mackintosh, chairman of Logan's Fund, which was set up in memory of the three-year-old, said: "We always want to start the day off on that kind of key because that's the reason we're there and the reason that the fund was set up.
"The whole day is about fun with some really great performances but we want to remember why we are there to begin with."
Hundreds of people enjoyed the afternoon of entertainment at Lossiemouth's playing fields yesterday.
Local kickboxers demonstrated their talent in the ring while dance groups showcased their best moves alongside energetic gymnasts.
Funds raised from the event were donated to Logan's Fund, which aims to provide days out and respite trips at home and abroad for children affected by cancer.
Yesterday was the ninth annual fun day that had been organised since the death of the three-year-old in 2009, which included a tent with emotional stories from families who have been supported by the charity.
Meanwhile, causes close to the family's heart, including Abbie's Sparkle Foundation, Clan Cancer Support, Keiran's Legacy, Remember Jayden and Keane's Stars were also represented at the event.
Mr Mackintosh added: "There was a really brilliant turnout. I thought people would have been put off by the weather but I thought it was excellent considering what the forecast was."