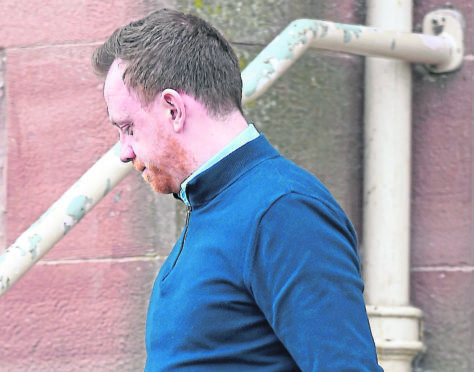 A 71-year-old Elgin woman who paid a £2,000 deposit for a renewable heating system which was never installed told a jury she had not misunderstood the salesman's promise of Government funding.
Mrs Janet Grant was giving evidence in the the trial of 38-year-old Stephen Hughes from Glasgow, who denies dishonestly obtaining thousands of pounds from elderly people across the Highlands.
Defence advocate Paul Nelson asked Mrs Grant if she could have misconstrued what she had been told by his client on January, 2015. He added that he could have been explaining that the government support was an interest free loan and not a grant.
She replied: "I read the paperwork when it came and I immediately became aware that it was a £7,500 loan and that changed my mind. I felt I was misinformed by Mr Hughes. No, I was misinformed.
"And I know because I asked him if I was getting a £10,000 heating system for £2,500 and the Government were paying the rest, and he replied 'yes'."
Hughes denies over 60 charges of fraud, theft, making false claims of Government funding and other breaches of the Consumer Protection Act in 2014 and 2015 across the Highlands, Badenoch, Aberdeenshire and Moray.
The charges allege Hughes represented two companies, Free Energy Scotland and Celsius Energy Solutions.
Like the witnesses before her, Mrs Grant told Inverness Sheriff Court the installation was never done and she never got her money back.
Nicholas Turner, a 74-year-old pensioner who paid Hughes £2,500, told the court: "When the system was never installed I informed Trading Standards." He added that he didn't get his money back.
Retired engineer David Scott, 77, of Boat of Garten, paid Hughes £3,600 deposit for solar panels and got two different contracts, the second which was £400 cheaper than the first.
Ann and John Teale, a married couple in their 70s from Newtonmore, also paid a £1,500 deposit for an £8,500 air heating system sold to them by Hughes.
Again no work was done and no money refunded when they cancelled.
Brian Mackintosh, 68, of Kincraig, suffered the same fate, the court heard.
He said he paid Hughes £1,500 under the belief he would also get a government grant towards his new heating system.
He added when no work was done he demanded a refund and was promised it. No money was forthcoming.
Mr Mackintosh said: "If I had known there was no government grant as he said, and that it involved a loan, I wouldn't have signed the contract. I couldn't afford it."
The trial continues.