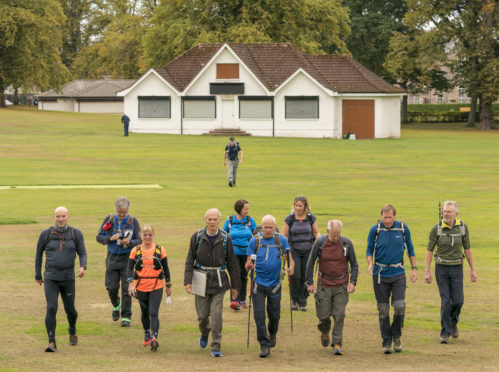 Long distance walkers in Moray are striding out in a bid to secure an event for the region that could attract hundreds of participants.
The inaugural 50-mile event will be held across some of the region's most spectacular scenery next month.
Entrants will be tasked to push their endurance to the limit by walking through the night in order to complete the course within a 24-hour limit – with the fastest times graduating to the 100-mile Hadrian 100 event to be held in Northumbria next year.
Participants from across the UK have already signed up for the first Laich o' Moray 50 Challenge, which will start and finish in Grant Park in Forres.
Yesterday, a group of about a dozen marshals who will officiate at the actual event completed the route themselves to sample the undulating course.
Pete Mitchell, secretary of the North West Grampian Long Distance Walking Association, explained the new event was already proving to be draw to those from further afield.
He said: "We only formed three years ago and have been steadily building since then. About 60 people have signed up already, mostly coming up from England, but we have space for 200.
"You probably have to be a little bit mad to do it, but it's just an endurance challenge. Some people run marathons, some swim, some cycle – why not a long walk?
"Ultimately, we would love to bring the 100-mile event, which is held only once a year, to Moray. You could easily have 500 people entering that.
"We could easily incorporate that here with the coast trail, Speyside Way and Dava Way.
"We've got some fine scenery here to make it enjoyable."
After leaving Forres, the 50-mile route heads north to Findhorn before following the coast all the way to Lossiemouth.
The walkers will then head south to Quarrel Woods near Elgin and Miltonduff before heading to the Heldon hill range and Califer viewpoint and then turning back to Forres through Rafford.
More information is available online at www.ldwa.org.uk/NorthWestGrampian