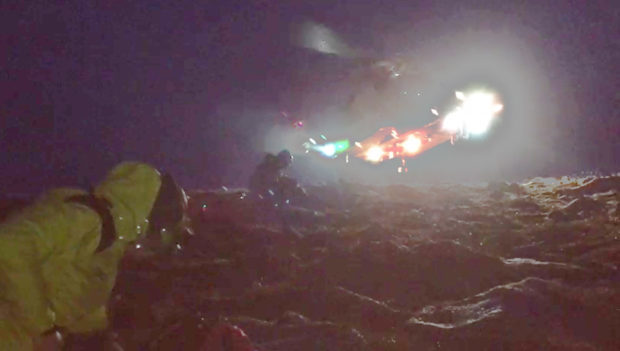 A climber has told how he thought he was going to die after spending the night in the Cairngorms.
Sheffield man Robert Shipston was climbing with David Webb from Portsmouth when they got into difficulties and called for help at 6.15pm on Thursday.
Despite the dark and very cold and wet conditions the team only narrowly missed the climbers and the search was called off around 3.30am.
Cairngorm MRT team leader Willie Anderson said: "When we didn't find them last night we decided to scale up the efforts so we called in the RAF and Braemar mountain rescues to search from the south."
They mustered at 5.30am with Braemar and the RAF MRTs and set off at first light and about the same time the climbers started an attempt to get down themselves.
CMRT called out to assist 2
people disoriented on Braeriach.
Came across another 2 hill walkers
in difficulty during search. They were evacuated from hill suffering from hypothermia. Search ongoing for original 2. Rescue Aircraft 951 on site deploying MR personnel. Updates ASAP.

— Cairngorm MRT (@cairngorm_mrt) September 13, 2018
Mr Shipston spoke about his night on the mountain saying that "we thought we were going to die".
He said: "We got our silver foil blankets out and huddled together to keep warm. But you can't help those thoughts going through your head when you are out there in those conditions."
Mr Webb added: "Our phones had died. We had a whistle and torch so kept trying to attract attention. Because we had phoned for help it was reassuring to know that there were people out there looking for us. We can't thank the teams enough."
Mr Anderson said: "When we got the guys back they said that last night they could see our flares and hear us but they didn't have the strength to make their location known – but we were in the right area, near the top of the mountain. When you can't see further than 20 metres in front of you have to walk over people.
"So they just huddled together for the night. They were obviously very cold and because of that they hunkered down for the night – it was very dark, it started to sleet, really not very good conditions.
Cairngorm successfully rescued another group of climbers from Britain's third highest peak on the same night.
The team was attending a training session when they were told they had "just minutes" before Coastguard helicopter Rescue 951 would uplift them onto Braeriach.
A total of 24 rescuers were involved but the operation was complicated by the discovery during the night of a further two climbers showing the first signs of hypothermia.
Mr Anderson said: "That was a bit bizarre. They had no head torches and it looked like they were suffering from the onset of the early stages of hypothermia.
"They were airlifted off the mountain. We had to walk them down to beneath the cloud cover and the helicopter picked them up and took them to the base. We found them at about 900metres."