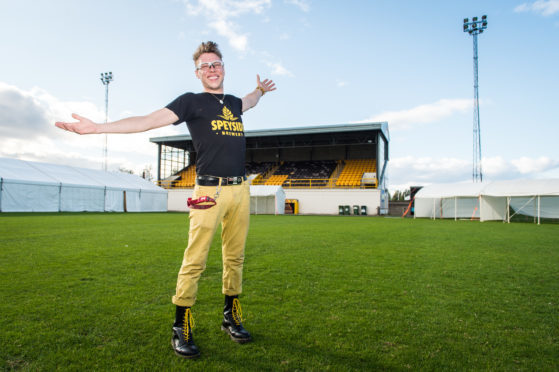 A new beer and music festival, which takes place in Forres today, has ambitions of becoming the biggest day out in the town's annual calendar.
Pitch Perfect is being held at the Mosset Park football ground and offers entertainment for all the family.
With the festival split into two different sessions, one for the whole family during the day and another for over-18s at night, its organiser is looking to corner the Moray market.
The event has been created by Seb Jones, managing director of Speyside Brewery, who is hoping to start a new annual tradition for Forres.
He said: "This festival is the brainchild of Speyside Brewery and Forres Mechanics and is a collaborative effort between us to bring the community spirit back to the football ground.
"As a brewery, we have hosted some parties round the back of the building but nothing on this scale and we wanted to increase the capacity.
"I am hoping to make this an annual thing, but first we will see how this one goes. Hopefully, everyone has a nice time."
Pitch Perfect's day session will see reggae, ska and old-school music being played, with stalls offering activities for children and adults alike.
This is followed by the evening session for the "big kids" which boasts techno and electrofunk and will be headlined by DJ Andy Rough from Inverness.
Mr Jones wants the event to fill the gaping hole in the community's calendar that Piping at Forres left behind after being moved to Inverness.
He said: "A big reason for the creation of the festival is to really provide a social and fun environment for people to come and socialise as there seems to be nothing else for people to do in the town.
"Hopefully, it will become one of the bigger events in Forres and, now that Piping at Forres has moved on, we want to try and plug that gap."
Pitch Perfect will bring together some of the best local DJs to perform sets and with plenty of room to dance and drink, it's expected to be a sell-out.
Tickets can be purchased at the stadium throughout the day, with the opening session running from 12pm to 5pm and the evening activities running from 6pm to 11pm.