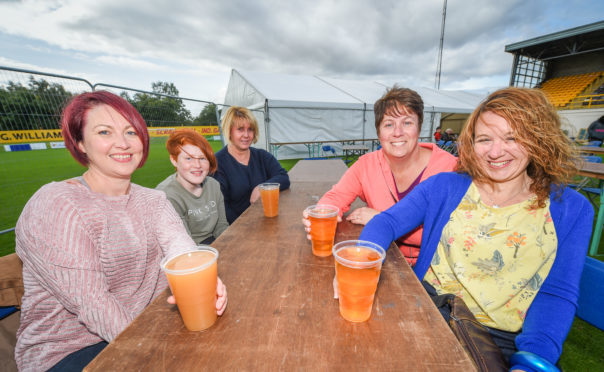 There were plenty of fun and games at Mosset Park on Saturday when the first annual Pitch Perfect festival entertained big crowds.
Billed as a family-friendly beer and music event, the open-air showcase was hardly helped by the Jekyll-and-Hyde weather.
The first session in the afternoon was for all the family and was blessed with warm weather, but the evening session, for those over 18, was hampered by squally showers.
However, that did not deter many local people friom dancing the night away in tents constructed on the Mosset Park turf.
DJs from the Forres region and beyond showcased their skills and entertained the crowd.
Organiser Seb Jones, manager of Speyside Brewery, was thrilled at how well the inaugural occasion went.
He said: "It was a really good day. It was nice to see all the families running about during the day and, as a concept, the festival really ticked a lot of boxes.
"It was a good promotion for us and also helped us build more community spirit around Forres.
"There were also lots of lessons to learn as well for us, so we can come back stronger next year."
Despite the success of the event, Mr Jones is not resting on his laurels and is already hatching a plan to make the event bigger and better next year.
He said: "We will have a debrief and take all the feedback and constructive criticism on board and find out ways we can improve the event.
"We received lots of good and constructive feedback and that will help us improve and grow and become more involved in the community."
With the gaping hole left in the Forres events calendar by the recent departure of Piping at Forres to Inverness, there is definitely a space for more fun, family-friendly events in the town.
The Pitch Perfect Festival which brought together beer, music and conversation is hoping to do that, according to Mr Jones.
He said: "As long as people keep coming along and telling us they want to come, we will keep putting it on."