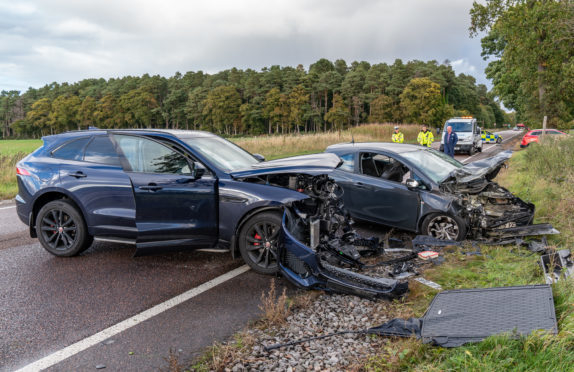 One of the north-east's busiest roads was closed yesterday after a head-on smash.
Police shut the A96 Aberdeen to Inverness road for more than an hour after the two-car accident brought the route to a standstill.
A blue Jaguar and grey Vauxhall Corsa were involved in the collision shortly before 3.30pm near the historic grounds of Brodie Castle.
Initially police confirmed that the incident was being treated as "serious" with an air ambulance and fire crews requested to attend the scene.
Emergency services on site of 'serious' two-vehicle crash in Moray
It is understood that concern grew for one person while they were being checked by paramedics before it was later confirmed that nobody had been seriously hurt in the incident.
Buses and HGVs were backed up on the major A96 route by officers while emergency services worked to clear the cars and debris from the road in order for traffic to resume.
Diversions were set up on narrow country roads near Brodie Castle and through Earlsmill in order to allow small vehicles to continue their journey.
Yesterday police confirmed that only minor injuries were sustained in the incident.
A spokesman said: "We were called to a two-vehicle collision on the A96 near Brodie at 3.20pm.
"All of the parties in the cars were able to get out themselves. The road was blocked. Diversions were put in place before it was reopened again."
A fire service spokeswoman said: "We were called to a collision about a quarter of a mile west of Brodie. Two vehicles were involved. Nobody was trapped in their vehicle."