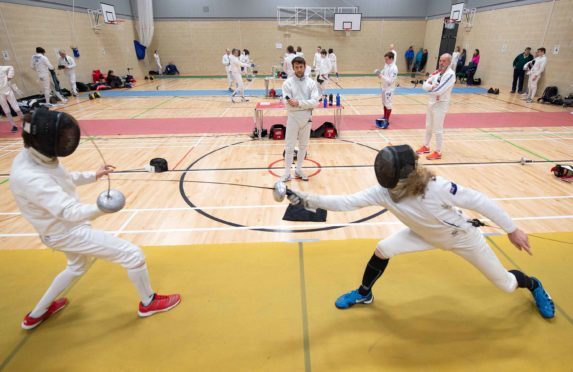 Elgin played host to a prestigous fencing competition this weekend, as competitors from around the world flocked to the town.
The Highland Open is the UK's most northernly fencing tournament and was held at the newly-built Elgin High School.
People travelled from as far as Portland and New York for the two-day event to compete in the men's and women's foil, epee and sabre categories.
This is the first time the competition has been held at the new Elgin High School and Robin Paterson, head coach at the Elgin Duellist Fencing Club, was impressed.
He said: "The fencers who competed were very complimentary about the quality of the school and saw it as a fantastic venue.
"This is the third year we have ran this competition in the high school and we look forward to coming here again next year."
One of the more distinguishing features of the Highland Open is the fact that young, local talent are given the chance to compete against some of the big names in the sport.
Casper Hawkins, 16, from Forres and Oran McKenna, 17, from Hopeman got to rub shoulders with some of the members of the Scottish national fencing team.
Mr Paterson believes that the Highland Open is unique, as it offers a friendlier atmosphere than the rest of the British competitions.
He said: "I would argue that although their are bigger events in the UK, the Highland Open stands out because of the friendliness of the competition.
"This doesn't impact on the calibre of fencers as we still attract Scottish internationals and some from around Europe and America.
"The event was incredibly successful this year and I'm delighted about how well it went."
Robert Blackburn, originally from New Zealand was the big winner on Saturday when he clinched the mens epee title. Elgin's Callum Sutherland performed well to secure third place in that event.