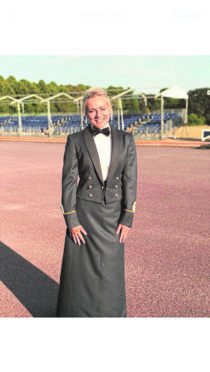 A RAF officer who began her career as a business management student has praised the air force for offering more opportunities to women.
Sarah Boulton, from Forres, had no idea what she wanted to do when she finished university, only realising that she did not want to apply for a graduate post.
---
>> Keep up to date with the latest news with The P&J newsletter
---
However, after consulting with her family, who have strong links to the RAF, she decided to pursue a career with the organisation and has not looked back since.
The 25-year-old, who is a Forres Academy alumni, is now a Station Adjutant/OC General Duties Flight officer at RAF Waddington in England and praised the organisation for being welcoming to female officers.
Miss Boulton said: "There was definitely not the same kind of opportunities for females 25 or 50 years ago.
"The job is more secure than ever, as I know that now I have signed a contract, I've got a job, as long as I enjoy it.
"This contrasts with what happened in the past, like if a girl got pregnant she would be forced to leave her job."
Miss Boulton's father worked at RAF Kinloss, while two of her uncles were also in the air force.
She only joined the air force at the beginning of the year but has enjoyed her experience so far, even travelling to the Netherlands to take part in a sports competition.
In her role as a Station Adjutant, Miss Boulton assists with the smooth running of infrastructure issues and station general duties.
She said: "It's quite cool being in the military and knowing the things I am doing for the station will have an affect.
"It's beneficial to be helping people and living up to my full potential, as I'm here and pushing myself and I feel like I'm getting more opportunities to advance my career.
"Sometimes people from small towns like Forres can be too frightened to leave and achieve their full potential."
Miss Boulton also moved to recommend the RAF as a viable career path for anyone who does not mind putting in hard work to gain a proper career.
She said: "I'd definitely recommend this job, although its not for everyone.
"It is hard work and I did get a bit homesick during training but I think it is great as the RAF offers so many opportunities."