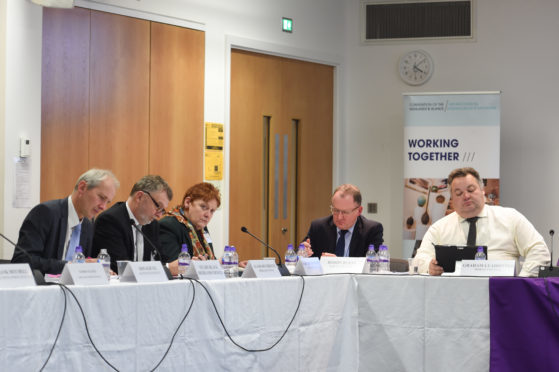 Local authorities and service providers including health boards throughout the Highlands and Islands have been urged to collaborate and offer a centralised approach to recruitment.
These proposals were suggested by Depute Leader of Inverness Council Alasdair Christie in a bid to attract more talent to the region post Brexit.
They were backed by Scottish Government's Cabinet Secretary for Rural Economy Fergus Ewing at the Convention of Highlands and Islands meeting that took place in Elgin yesterday.
The discussion revolved around how local authorities from around the region can increase the amount of working age people living and working here and how they can develop a coordinated approach across the Highlands and Islands to attract more talent and retain them.
Currently, health boards across the north and north-east of Scotland are struggling to attract nurses with NHS Grampian and NHS Highland still needing hundreds of nurses to fill vacant posts.
Recruitment problems have also badly affected Dr Gray's Hospital in Elgin, with the maternity services being downgraded from consultant-led to midwifery-led due to a lack of pediatricians.
Mr Christie suggested that a collaborative approach between all local authorities and service providers would bring increased benefits to everyone involved.
---
>> Keep up to date with the latest news with The P&J newsletter
---
He said: "I think there should be a collaboration between the Highland Council, NHS Highland and Moray Council in recruiting. If you think about it they are actually in competition with each other, when you are advertising for a headteacher, it turns out to be a good outcome for one authority and not the other ones.
"I think if we are starting from scratch would you have as many councils or other organisations with their own recruitment departments or would you have team Highlands and Islands looking across and recruiting what is required in the area.
"If Police Scotland is looking for inspectors, why not say we also require child protection workers, care-at-home workers, early year workers and nurses at the hospitals."
Mr Ewing stated that this proposal was one that should definitely be looked at going forward to benefit the entire region.
He said: "The desireability of more collaboration and less competition.
"If there are two or three vacancies for headteachers, would it not be better to have one advert for three positions and you are more likely to get a pool of applicants who may or may not be interested in one or more.
"That does seem to me an approach if it is not already tried is worthy of being tried an interesting one and something principally for local authorities to apply but also something for colleges to apply who are in competition with each other and NHS boards which are obviously in competition with each other."
There have been concerns that the Scottish Government had plans to merge NHS boards together, however, these claims were rejected by government officials.
Scottish Liberal Democrat health spokesman Alex Cole-Hamilton wants the Scottish Government to offer more support to the public services.
He said: "Fergus Ewing is tinkering around the edges of a Government that has consistently failed to fill vacancies in teaching and the health service.
"Our public services must have the support and resources they need to fill the gaping holes in their workforce."
Donald Cameron, Scottish Conservative MSP for the Highlands and Islands was adamant that more needed to be done about the recruitment crisis in the Highlands.
He said: "Fergus Ewing is right to say that alternative approaches to address the recruitment crisis in our schools and hospitals should be considered.
"However, the SNP government has been responsible for health and education in this country for more than a decade.
"SNP ministers have had years to fix staff shortages in areas like Moray, but have failed to do so.
"As a cabinet secretary, Mr Ewing should also be aware that our local education authorities have been working together under the Northern Alliance banner for some time now to try and address these very challenges that his government has been unable to get a grip on."