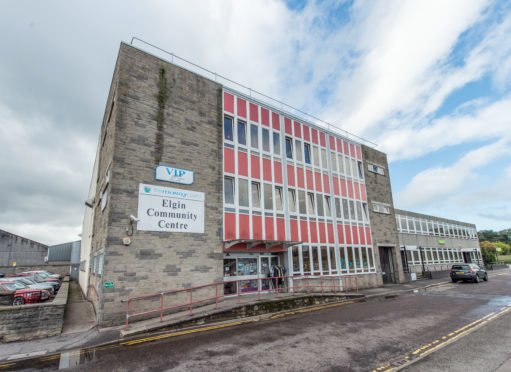 Warnings have been issued that services could leave Elgin unless the lack of investment in public facilities is reversed.
Moray Council has proposed shutting the town's community centre unless another group can be found to take over the running of it.
The move has prompted concerns about where groups that currently use the building will go if it closes its doors for good.
Talks are due to be held today between council officials and regular users of the venue in order to prepare for the future.
The doubts over the future of the community centre follow the transfer of Elgin Town Hall into community management earlier this year after the local authority said it was no longer willing to continue running it.
Now warnings have been issued by unions that services could be left with no other option but to leave the area if buildings continue to be have their futures cast into doubt due to decreasing funding from central governments.
Suzanne Wright, secretary of Moray Unison, said: "Many of our council services are now at breaking point and the decision to close the community centre, which offers activities to many of the very youngest and oldest in our community, is a false economy.
"It serves not only Elgin but the wider community and is an important hub, which provides employment not only for the council but for many small companies which use the centre as a base.
"Cuts are not the answer, the only answer is more investment in public services."
It is understood that no group has yet stepped forward to express an interest in managing the community centre – raising concerns that it could close.
However, the move is currently subject to the council's budget cuts consultation being finalised.
Yesterday, Katie Ralph, manager of VIP Childcare, which supports about 80 youngsters, said all options were being considered by the group.
---
>> Keep up to date with the latest news with The P&J newsletter
---
She said: "We're going to be operating on a very tight timescale and will need support from the council if we do have to move.
"We've got a plan if it does stay open through a transfer and are looking at different venues if that is what's needed.
"If we have to move then we want to stay in the Elgin area because that is the community that we are here to support."
Balancing the books
Elgin Community Centre's future has been thrown into doubt following proposals from Moray Council to bank annual savings of more than £5million.
However, that total is less than half of the £12million that needs to be found by February if the authority is to balance the books.
Transferring the running of the Lossie Green venue to a community group or closing the doors is expected to save the council about £74,000 per year.
More than 20 groups regularly use the building for activities as varied as baby massage, embroidery, judo and Weight Watchers.
Nearly 140 jobs at the council have already been threatened by cuts proposed by the authority.
Other measures under consideration include reduced opening hours for Access Points outside Elgin, at the libraries in Buckie, Forres, Keith and Lossiemouth and changes to the opening times at recycling centres.
Councillors have also voted to include less grass cutting on rural footpaths, a reduced street sweeping service and reduced maintenance at cemeteries that have not had a burial in 10 years as part of a consultation.