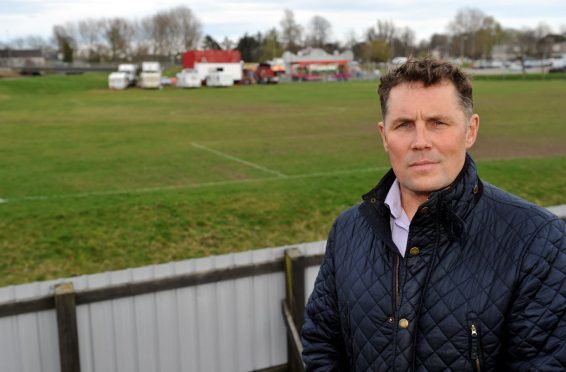 More than 100 people packed a public meeting last night to build support for a new artificial sports pitch in Moray.
The Elgin Community Sports Trust wants to take over the land at Lesser Borough Briggs in an attempt to increase the amount of facilities in the town.
The group's chairman, Dave Allen, has condemned other public pitches in the area for being littered with needles, broken glass and dog mess.
Last night, the dad-of-three hosted a meeting at Elgin Academy to gather momentum in advance of the trust submitting a bid to the council to take over the common good land.
He said: "Lesser Borough Briggs is not actually a football pitch. It wasn't supposed to be used for that purpose.
"However, there are hundreds and hundreds of kids who attend coaching sessions there, not because it's a good pitch but because there's nowhere else to go.
"Generally, the sports facilities in the area are outdated and, unfortunately, sometimes unsafe. We want to do something to help the community."
Mr Allen stressed that Elgin City Football Club was not driving the project, which he hoped could be completed in less than five years, but confessed they would be one of the anticipated beneficiaries of the new pitch alongside other sports teams in the region.
A bid from the trust to request the land is transferred from public ownership to the group is expected to be made in the coming months.
If approved, funding bids will be submitted to organisations to help cover the estimated £400,000 cost for the development alongside fundraising.
Information presented at the meeting said the pitch could make an annual profit of £75,000, based on pledges already made by teams to use it, with the cash ploughed back into sports initiatives in the area.
Dr Graham Taylor, a GP at Elgin Health Centre, said: "I see people on a daily basis who need greater encouragement to take part in sport. Anything we can do to increase the footprint of sport facilities in the town has to be a good thing.
"The NHS will go bust if we keep prescribing more and more drugs to offset illnesses. This is absolutely what we need to do."
Moray MSP Richard Lochhead said: "It's great to see the momentum behind a project like this."