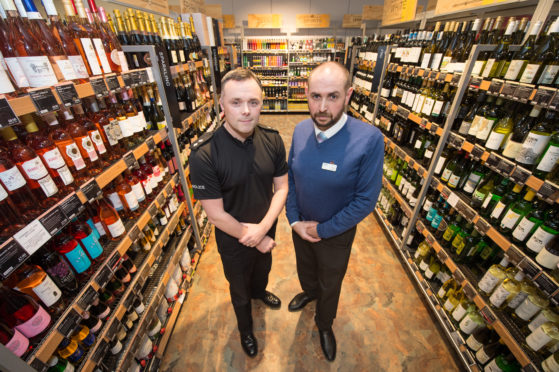 A campaign to highlight the consequences of providing alcohol to under-18s has been launched in Moray.
Known as proxy purchase or supply, it is illegal to buy alcohol or cigarettes for anyone below the legal age to consume it or smoke.
---
>> Keep up to date with the latest news with The P&J newsletter
---
Now police have launched a crackdown on the practice, and have highlighted some of the implications for someone who is caught doing so – including jail or a hefty fine.
They have teamed up with off sales premises in the Aberdeen, Aberdeenshire and Moray council areas to run the You're Asking For It campaign.
Inspector Kenny McGeough hopes the campaign makes more of the public aware about the problem, particularly during the party season.
He said: "My hopes for the campaign is public and premises awareness. I want staff to be aware of who's buying the alcohol, could that person be buying the alcohol for under-age people and to be able to answer questions of what is going on outside the shops.
"Public awareness to the fact that under-age drinking does cause quality of life issues and antisocial behaviour.
"If you are purchasing alcohol for under 18s you are responsible for any consequences for committing the offence, whether it be three months imprisonment or up to a £5000 fine. No matter what an adult's relationship is with the person under 18, they need to be aware of the consequences of such action and that it is simply not worth it."
Shop workers in the north-east have also been warned to be vigiliant.
Mark Watkins, manager of Marks and Spencers in Elgin where the campaign was launched, said: "It is good to have local knowledge about this, especially within the licensing community just to be aware of, especially coming up to Christmas and the extra sales that go through the tills it is something to drill into those workers at the tills to keep an eye out for."