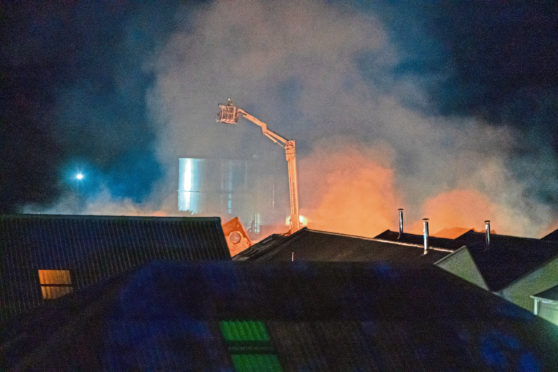 A major fire ripped through a historic business park in the heart of a Moray community last night.
The fire brigade was called to the scene of the blaze at the Isla Bank Mills, on Station Road in Keith, shortly before 8pm.
Police were also in attendance and local road closures were in place to prevent anyone getting too close to the fire, which could be seen billowing smoke above the town, lit orange by the flames.
Station Road and Seafield Avenue were shut off. One of the buildings was last night completely engulfed in flames, and it is believed its roof collapsed.
Fire teams used cranes to spray water on the blaze from above.
The historic Isla Bank Mills were a key part of Keith's textiles industry.
In recent years, it has been transformed into a business park.
A fire service spokesman said last night: "The Scottish Fire and Rescue Service was alerted at 7.49pm on Tuesday November 13 to reports of a building fire in Keith.
"Operations control mobilised a number of fire engines to the town's Station Road, where firefighters were met by a well-developed fire.
"Crews currently remain on the scene working to extinguish the fire."
A police spokeswoman said yesterday: "Police Scotland and Scottish Fire and Rescue are currently in attendance at a fire at Isla Bank Mills."