The new RAF Lossiemouth facility that will house a fleet of submarine hunters and secure the future prosperity of the region reached a milestone yesterday, as the main structure of the building was completed.
Nine Poseidon P8-A maritime and patrol aircrafts will touch down at the Moray base in 2020 and will be tasked with protecting the UK from nuclear threats.
They will locate and track potentially hostile submarines and surface ships and enhance maritime Search and Rescue capability.
In time, the will be supported by up to 500 personnel, providing what will hopefully be a lasting boost to the region's economy.
The Lossie facility has been funded through a £100 million joint investment by Boeing UK and the UK Government.
Robertson are in charge of constructing the facility, which will have the capacity to hold three aircraft at any given time and will also comprise squadron accommodation, crew training and flight planning facilities, workshop areas and a three-bay aircraft hanger.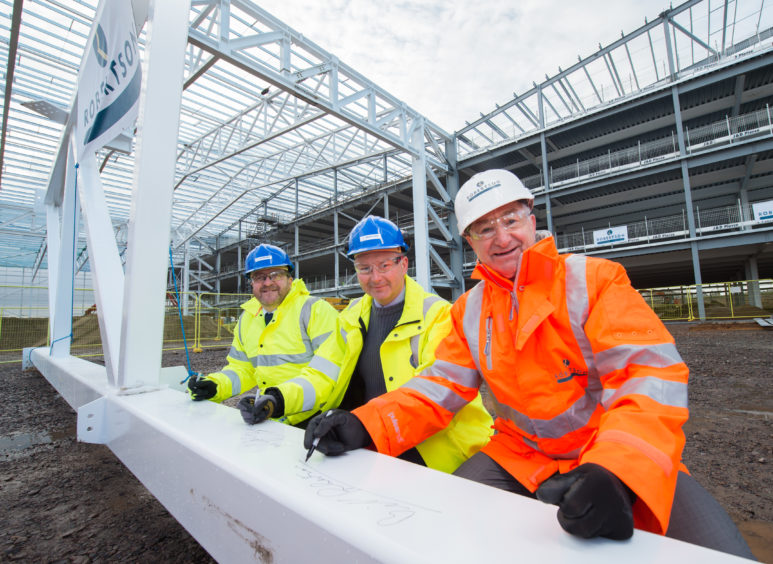 RAF Lossiemouth Group Captain Simon Strasdin said the project was extremely important to Moray and to the UK as a whole.
He said: "It's a fantastic new facility, bringing the RAF into the present and taking it into the future.
"It is also a huge commitment from the RAF and the UK government into not only Lossiemouth but the Moray area.
---
---
"It spells out the start of a bright future for the base. We are aiming to start Poseidon operations from Lossiemouth in late 2020.
"The scale, the pace, the precision and the accuracy of the project so far is absolutely stunning."
The final beam was lowered into place on the main structure of the building as representatives from Boeing, RAF and Robertson watched on.
The arrival of the nine Poseidon aircraft- which have a total price-tag of £3 billion- forms part of an investment of more than £400 million in the base's infrastructure that will eventually lead to nearly 500 extra personnel being deployed there.
Bill Robertson, founder and executive chairman of the Elgin-based construction firm, said he was pleased at how much progress had been made on the project, revealing it was "slightly ahead of schedule".
He said: "The RAF have been very helpful and very accommodating, simply letting us get on with this.
"We were a long couple of months in preparation for the project starting and it is great to see it all going to plan now.
"We are either on time or just slightly ahead and hopefully if the winter is not to bad for us we will keep ahead."