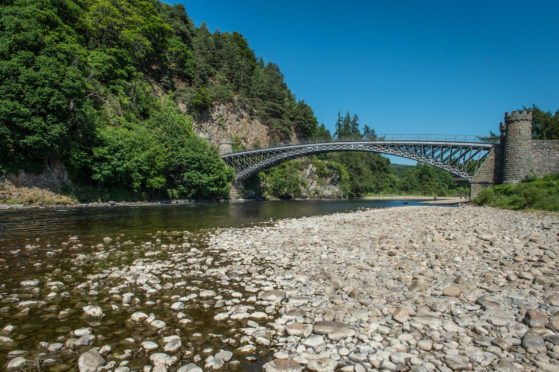 Salmon catches on one of Scotland's most famous rivers have plummeted to an all-time low – prompting fears a "disaster" could be looming.
The number of fish caught on the River Spey this year has dropped by more than 2,000 from last year – causing the total to drop to about a quarter of what it was a decade ago.
The Spey Fishery Board has blamed the new low on a perfect storm of less salmon returning to the river amid an exceptionally hot summer.
Regular anglers believe that without an upturn in the coming seasons, the decline could result in the "death" of the river.
Crisis talks are due to take place in Aberlour tonight between the board, anglers and proprietors about the downturn.
---
>> Keep up to date with the latest news with The P&J newsletter
---
Yesterday Brian Doran, chairman of the Spey Fishery Board, stressed that they were not alone in facing a challenging situation.
He said: "It's been very difficult. There's definitely a lack of returning fish, which has been a recurring issue, but it has been exacerbated by the high temperatures and low water flow.
"This is not a Spey-specific issue though. The same problems are being reported in rivers across the UK and other nations too.
"It's a natural thing. Fortunately some rain arrived in mid-September to enable better catches to end the season and stop the total being as bad as it could have been."
Fishery board officials have praised anglers for their support for a voluntary conservation policy – which resulted in 98% of all salmon caught being released.
This year's exceptionally hot summer caused water levels on the Spey to drop to the lowest levels seen since the drought of 1976. Records of catches have been kept since 1952.
Last night, gillie Ian Gordon, who has been fishing the Spey for 40 years, blamed "years of inaction" for the decline.
He said: "You can't keep doing the same thing and hoping for a different result. I've advocated a change in hatchery policy so the salmon are allowed to mature more.
"This is big business on Speyside and we need a definitive answer to that question – I actually thought we needed an answer 30 years ago.
"We need to test it for five years to see if it is a viable and economic method to restock the river. It's been done in Iceland, I don't see why it couldn't be done here."
A hatchery plan has been conceived by the Spey Fishery Board in an attempt to rescue future seasons but Mr Gordon fears the effort could be a "waste of time" if the fish are released when they are too young.
Government studies have estimated the value of angling to communities lining the banks of the Spey at nearly £12million.
However, tourism bosses believe that total "undervalues" its impact on the region.
Laurie Piper, operations manager of Moray Speyside Tourism, said: "These figures are deeply worrying and confirms our fears about the impact of such a dry summer on fish stocks in one of Scotland's most famous rivers.
"This will not only be a big concern to angling communities but also the businesses who rely on trade from anglers as well as the wider tourism industry here."