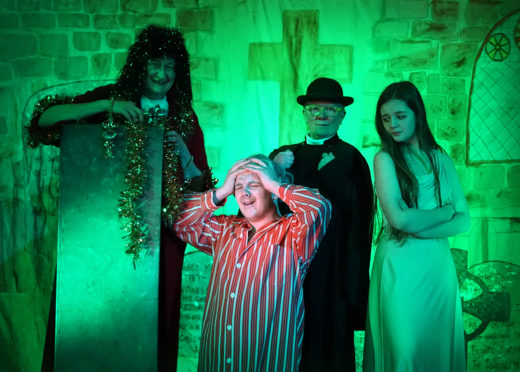 Pantomime audiences in a Moray village will delve into the past, present and future in quirky production penned by the local minister.
Rev Douglas Stevenson has written his own original scripts to be shown in Cullen by the Disaster Theatre Company for the last seven years.
Previous casts have portrayed "ghastly ghouls" from the town's Auld Kirk and riveting nights out with The Broons for Hogmanay.
Now the Cullen and Deskford Church minister has turned his pen to a subject closer to home with his latest script – entitled Scrooge and the Christmas Ministers.
The tale follows the classic Dickens plot with the twist of spectres from the pulpit making the journey from the past and future.
Rev Stevenson said: "I've always tried to make them humorous and I think that's why they've always been so popular.
"Nearly every minister is a storyteller because of what we present every Sunday morning. I've always loved writing and been fascinated by it – I've got a novel just waiting to be published.
"This year I've taken Scrooge but with a slightly different angle with a minister from the past, who is probably your traditional Presbyterian hell and damnation, one from the present, who I would like to think is more liberal and accepting, and one from the future, who is very modern and very different from anybody else you would have seen.
"The story is these three different characters making Scrooge look at his life."
Scrooge and the Christmas Ministers will be performed at the Hall Church in Cullen on Friday at 7pm and on Saturday at 2pm and 7pm. Tickets available from Cullen Paper Shop. Entry £7, primary school children £3.