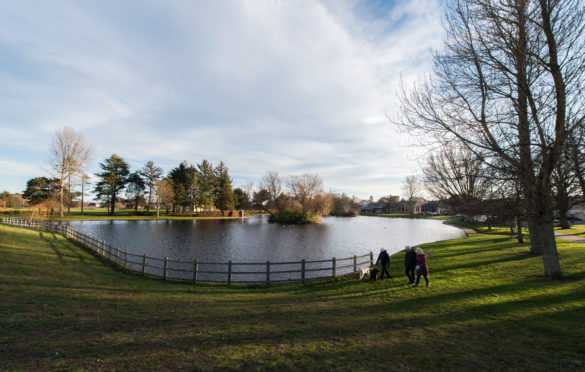 An outdoor performance area, revamped pond and bike hire facilities could all feature in an ambitious upgrade of one of Moray's most popular parks.
Cooper Park in Elgin has already been identified as being home to a "cultural quarter" for the town as part of a £200 million growth deal bid for the region.
Now further details have been released about extra facilities that could be added to the area – including an outdoor gym, boardwalks and more seating.
Senior officials at Moray Council have described the proposals as having the potential to create a "community centre without a roof".
A bid to the European Green Infrastructure Fund, which is administered by Scottish Natural Heritage and is only available to one project in the north, for £500,000 is now being considered to bring the park up to today's standard by summer 2022.
Council leader Graham Leadbitter said: "We all know public sector finances continue to be tight but there are opportunities out there that we can tap into.
"If we don't make serious efforts to access these funds then we are doing Moray a great disservice.
"Cooper Park is a focal point for Elgin and the wider community with a plethora of sports taking place there every week. It's right we seek every opportunity to invest in it."
It is expected that the total cost to complete the transformation of the park will be more than £650,000 with the rest of the funding coming from the growth deal bid.
Councillors will meet tomorrow to agree submitting an application to the fund. However, the project is dependent on securing backing for the growth deal from the UK and Scottish governments and being able to develop a business case to maintain the facilities.
Consultation events have been held by the council with regular users of the park to develop proposals. Further talks are expected to take place next month with community groups, residents and local businesses.
In a report, the council's principal officer for economic development, Reni Milburn, states a rejuvenated Cooper Park would support development across Elgin.
She said: "If the proposal is successful and the financial assurances can be provided, Cooper Park will become the most attractive green space and resource for all the different interest groups, visitors and people of all ages with the ambition to create a community centre without a roof.
"The green infrastructure fund provides an opportunity to further enhance the growth deal proposal and if associated financial assurances can be provided, would transform a key site within the cultural quarter space."
Growth deal
The proposed "cultural quarter" for Elgin to be developed as part of the growth deal bid includes various projects to draw people to Cooper Park.
Long-awaited plans to refurbish Grant Lodge into an attraction to showcase local food, drink and textiles with a focus on a "whisky experience" is part of the flagship project.
However, the blueprint could also include refreshing Elgin Town Hall with a multi-purpose theatre, rehearsal rooms and gallery.
Meanwhile, the park has also been identified as the potential site for a four-star hotel to end struggles to find accommodation for visitors.
One of two new campuses for Moray College UHI, with the other expected to be in the town centre, could also be developed to help retain youngsters in the region.
Senior management at the council believe the cultural quarter vision would fulfill growth deal priorities of job creation as well as creating more education and recreation facilities and supporting business in the area.
The collective proposal for Cooper Park and Lossie Green is just one of the 13 projects expected to be part of the final growth deal, which could also include a gas pipeline to allow firms to expand and a business improvement centre.
Negotiations are currently underway with Scottish and UK governments to determine which projects are funded to what level.