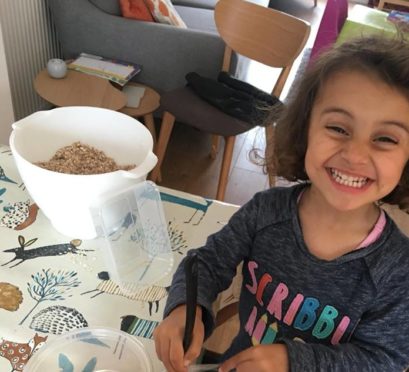 A Moray child, who was rushed to hospital after becoming seriously ill, is selling reindeer food to thank the staff who saved her life.
Lynne Mandal, from Elgin, had to drive her three-year-old daughter, Priya, to Aberdeen in August after seeing her health deteriorate.
When they arrived at the city's children's hospital, the youngster was then airlifted to Glasgow to receive specialist treatment after being diagnosed with E.coli.
At first, Priya's condition improved, but she subsequently developed Hemolytic Uremic Syndrome – a life-threatening condition that can affect all the organs in the body including the kidney and heart.
However, following treatment in a high dependency unit, she and her family were able to return home in time for Christmas.
And now, during the festive period, the little girl has been assembling packets of reindeer food to help raise money as a way of thanking the staff at the Royal Hospital for Children in Glasgow who saved her life.
The cash is being donated to the Glasgow Children's Hospital Charity's renal appeal, which is striving to raise £500,000 to help children all across the country who are battling kidney failure.
Ms Mandal said: "We thought Priya would be sent home from hospital the next day as she showed signs of improvement, but sadly things took a turn for the worst.
"She spent a night in high dependency in Aberdeen before being transferred to Glasgow for specialist care from the renal team.
"The team took her to theatre, so that they could insert tubes in order for her to have kidney dialysis treatment to give them time to recover.
"Priya endured a lot throughout her ordeal and we are eternally grateful to all the staff who treated her. Being so far away from our home in Elgin, the team did a fantastic job keeping us going.
"Failure is not an option for Priya or me."
The family has already raised £170 to support the cause and Priya and her mother intend to continue their efforts next year.
Kirsten Sinclair, chief operation officer at Glasgow Children's Hospital Charity, said: "Our renal appeal looks to build on and enhance services for children battling kidney failure in Scotland.
"It is vitally important that we reach our target and find ways to fund the best possible care, support and services for young patients and their families at Scotland's largest children's hospital."