Malt Whisky Trail eager to see barriers to whisky enjoyment broken down for Hogmanay
It's all about putting the dram into drama.
And now, whisky enthusiasts on Speyside are encouraging revellers to shake off the perceived stuffiness of malts to boost their Hogmanay experience.
Bringing in the bells with a glass of amber nectar in the hand is one of the most celebrated Scottish traditions across the globe.
And yet, newcomers to the country's national drink can be overwhelmed when faced with the huge range of tastes on offer.
However, the Malt Whisky Trail, which comprises some of the most celebrated distilleries on Speyside, in addition to other firms which support the industry, is determined to ensure people savour the brand's infinite variety.
The Craigellachie Hotel's quaich whisky bar has more than 700 bottles stretching from ceiling to floor ranging from those available in supermarkets to whisky that was distilled in 1940 with a price tag of £295 a dram.
Head bar tender Angus Bryce-McVay believes there should be no right or wrong way to sample the spirit that has undergone years of maturing.
He said: "There are hundreds of different ways to drink your whisky from straight up and regretting it the next morning to sitting and nosing it for 20 minutes.
"There will be attitudes from some who say it is sacrilegious to do certain things. There's really no reason to be so judgemental though – it's just brown liquid in a bottle.
"It's important to make whisky approachable. People shouldn't be afraid to enjoy it how they want to, whether that's mixing it or whatever."
The Malt Whisky Trail includes seven working distilleries as well as the Speyside Cooperage in Craigellachie and the historic Dallas Dhu site near Forres which no longer produces spirit.
The organisation aims to encourage visitors to the region to sample Scotland's national drink in its historic home by also promoting other attractions in the north.
And Mr Bryce-McVay is eager to see as many people as possible sharing whisky on Hogmanay exactly the way they want to do it.
He added: "You can get whisky from some of the best Speyside distilleries for £20 to £30 – not all whisky is an investment, some is there purely to be enjoyed with friends. There's no better time to do that than Hogmanay."
Five tips to enjoying a guid dram
Whisky expert, Angus Bryce-McVay, believes there should be no right or wrong way to sample the spirit that has undergone years of maturing. Here are his tips to enjoying a tipple.
Colour – "To a lot of people, it is just brown liquid, but there is actually a vast array of different colours, from some that are as black as tar to some that are really clear. The colour can tell you a lot of things about your whisky, particularly its age."
Body – "When you swirl your drink around in your glass, different whiskies will take longer to fall down again to the bottom. If it takes longer that means it has got a heavy body and is more oily, which means the flavour may take longer to develop but will linger longer."
Smell – "I use a Glencairn glass because it has a narrow point to focus the aroma. If you go in straight away, it can put you off it for life because 40% alcohol can be quite overpowering. Going slowly can allow you to appreciate it more, but there is really no right or wrong answer."
Taste – "Probably the most important. When you are sitting in a formal testing, most people expect you to take a sip to consider everything, but I think it's really important to take a gulp, maybe a quarter of the dram, so you can taste everything that is going on."
Finish – "The flavours of different whiskies will linger in their own ways and leave an impression – but the only question you need to think about is whether you enjoyed it and whether you would have it again because that's how you develop your preferences."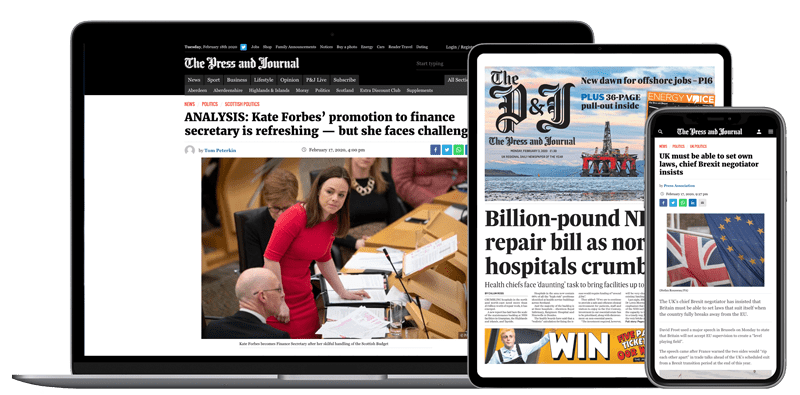 Help support quality local journalism … become a digital subscriber to The Press and Journal
For as little as £5.99 a month you can access all of our content, including Premium articles.
Subscribe