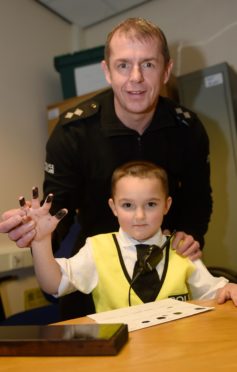 An ambitious five-year-old boy who harbours dreams of preventing crime has been given a tour around his local police station- where he was even fingerprinted.
Brax Walker, of Garmouth, wrote a letter to Inspector Neil Campbell at Elgin Police Office and informed him of his career aspirations.
It was then arranged for Brax to pay a visit to the station on Saturday, where he got to meet police officers working in different roles, including in the road and community-based departments.
---
>> Keep up to date with the latest news with The P&J newsletter
---
He was also given a tour of both a police car and motorcycle before getting up close to working police dog Ava.
Brax's dad Wayne, who is a heavy plant operator at a quarry, does not know where his young son's dream of becoming a police officer came from, because no-one in the family has undertaken that career path.
He said: "It is something he has always wanted to do and he loves seeing the police out on the road and has always wanted to be one.
"I don't know where it comes from although when he was much younger he always used to love seeing the lights flashing.
"We've got no family at all in the police although his MMA coach is a police officer so it may stem from that."
Brax received a new police uniform for his fifth birthday and wears it at every opportunity.
While walking with his granny, Brax had a chance encounter with a couple who praised his costume and joked about the five-year-old arresting them.
That led to Brax writing to Elgin police station and asking officers for a part-time job.
He was then invited there for an exclusive tour around the facilities, including the jail cells and custody suites.
For a final treat, Brax was given his own police epaulette, usually worn on shoulders as part of their uniform, which has his own personalised number on it.
His father Wayne believes that the visit has further encouraged his son down the career path of his dreams.
He said: "Brax absolutely loved the trip and was delighted the whole time and I'm sure he now has his heart set on joining when he turns 18."