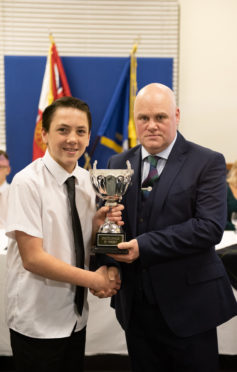 Army cadets from across Moray & Nairnshire have celebrated their achievements over the past year at a presentation dinner.
The cadets from 1st Battalion The Highlanders' Moray Company held their annual awards dinner last week at the battalion's Cadet Training Centre in Dingwall.
It was held as part of the company's annual Inter-Detachment Competition, which saw participants from the Elgin, Forres, Nairn, Culloden, Ardersier and Pipes & Drums Detachments compete in 10 different stands testing their various knowledge of the army proficiency syllabus at their relevant star level.
The main trophy, the Inter-Detachment Competition Shield, went to Elgin.
However, every single detachment won at least one award.
Some of the prize-winners included Will Nicol, 15, and Tamzin Gordon, 16, from Ardersier who were joint winners of the Outstanding Achievement award.
Jade Close, 15, from Nairn received the Best Endeavour award, Jamie Fraser, 17, who attends both Culloden and the Pipes & Drums Detachment was named the Excellence in Fieldcraft winner.
Others who received awards were Leah Goodman, 16, from Forres who won the Top Shot award, Jakub Bialkowski, 15, from Elgin received the Top Senior Cadet award.
Fellow Elgin cadets were also victors with Ben Hayllar, 14, winning Company Commanders Cup and Liam Munro, 13, who was the Excellence in Sport award winner.
The annual awards dinner marks the culmination of a year of success for the company.