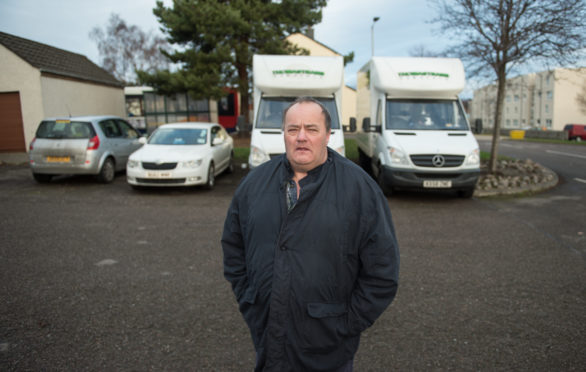 A disabled resident in Moray's biggest town fears paramedics would struggle to reach his home in an emergency due to parking problems on his street.
Raymond Bissett lives in St Andrews Square in Elgin and has had two liver transplants due to ill health as well as seven toes amputated.
The car park close to his home has 12 spaces but Mr Bisset said it was always packed full with no room for other vehicles.
He claimed residents often hold on to parking bays by swapping cars with other family-owned vehicles.
And he is growing increasingly concerned that the situation could turn deadly for him due to his serious medical condition.
He said: "I've got a very serious medical condition as I have had two liver transplants and if I take ill, then I need to be hurried to the hospital.
"I have a red triangle next to my name which means I have to be taken to hospital within an hour.
"I can't see an ambulance being able to come in about and get close enough to my house without causing problems.
"Last time it came, I had to be run on a trolley half a mile away so these people pre-booking the spaces are totally ruining lives at St Andrews Square."
Mr Bissett has contacted Moray Council for assistance but has not received any help.
He believes it's not acceptable for families to be continually blocking off all the parking spaces with all their vehicles.
---
>> Keep up to date with the latest news with The P&J newsletter
---
However, another resident believes the problem has been blown out of proportion.
He said: "The car park holds 12 vehicles but that space was not getting used properly so I got a tin of paint and marked six spaces for each (side) clearly.
"The rest of the residents thanked me for that as everyone can now get in as all the neighbours are trying to help each other and stop the carry-on."
Moray Council did not respond to a request for a comment.