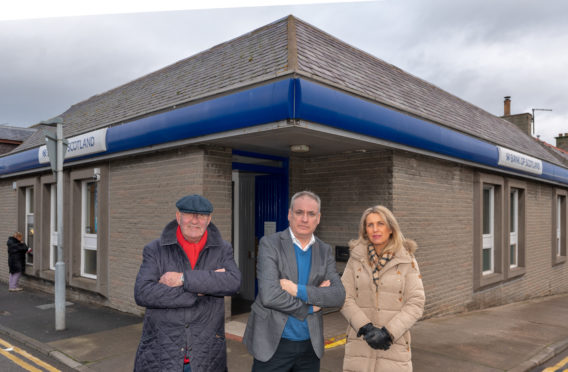 Campaigners in Lossiemouth have vowed to take the fight to save their last bank to Westminster.
Bank of Scotland yesterday confirmed it will shut the town's branch, as well as the one in Keith.
The news is a huge blow for Lossiemouth, which has already lost its TSB, Clydesdale and Royal Bank of Scotland.
---
>> Keep up to date with the latest news with The P&J newsletter
---
Campaigners had hoped the fact the impending arrival of more armed forces personnel as a request of the multi-million pound expansion of RAF Lossiemouth would persuade bosses to grant the branch a reprieve.
But parent group Lloyds Banking have insisted it is unsustainable due to a reduction in customers and changing trends in the industry.
Mike Mulholland, chairman of Lossiemouth Community Council, now intends to appeal to the UK Government.
He said last night: "This is a big disappointment but not unexpected, and the fight will continue on.
"We are going to form a fighting group to discuss and take our options forward, which includes trying to persuade the bank still and look for another bank to come into town.
"With the upcoming expansion of the town, we've got a sales pitch for another bank to come in and we will try to identify which ones to target.
"We are also going to look at a more national picture, should the government not step in and make it more difficult for them to leave a smaller community, banks are invaluable to places like Lossiemouth."
Lloyds Banking Group, the parent company of Bank of Scotland, blamed changing trends in the industry and a reduction in customers for the closures.
They released figures showing that the number of counter transactions made by customers in Keith decreased last year by 8%, and by 7% in Lossiemouth.
Mr Mulholland was part of a community group who met bank officials last month to urge them for a rethink, and was told that even if an influx of 2,000 people opened up a bank account, it still would not have been enough to make it viable.
He said: "We have thoughts of taking this to the government to see if they will put the brakes on especially after they supported them doing the financial crisis.
"Now they walk out on those who helped pay for their existence so soon? It is immoral."
Keith will also lose their bank, meaning Bank of Scotland customers will have to do a 20-mile round trip to do their banking.
Sandy Dickson, a member of Keith Community Council, insisted they will also carry on the fight.
He said: "They are a big corporation so they are going to do what they want.
"People will still be active here and try to fight the closures."
A spokesman for Lloyds Banking Group confirmed the closures, but insisted that the company will do all they can to support the local communities.
He said: "We always welcome the opportunity to hear the views of the local community. The difficult decision to close these branches was made in response to changing customer behaviours, which resulted in them being used less often.
"We recognise the importance of continuing to serve our customers locally, and will introduce a new mobile branch service which will visit both areas multiple times each week, giving customers access to banking services such as making deposits, withdrawing cash and paying bills."
Moray MSP Richard Lochhead called on the UK Government to intervene.
He said: "It is now incumbent on the UK Government – who has responsibility for banking – to intervene and to take action particularly in Lossiemouth to prevent the closure of the last remaining branch in the community.
"It is of course ironic that the public bailed out these banks at their time of need and yet they refuse to return that support to our communities in Moray with 40% of our high street branches being lost in Moray in recent years."