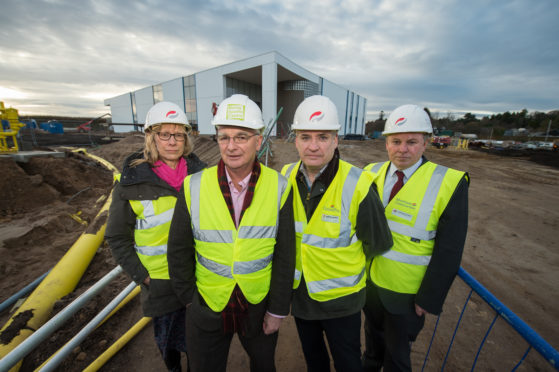 The team behind a new north-east sports complex fear the region could miss out on capitalising on Andy Murray's glittering career unless a funding announcement is made imminently.
The under construction Moray Sport Centre, which is due to open in Elgin this summer, already has planning permission for four indoor tennis courts.
But the success of that part of the project is in the hands of SportScotland, which has yet to commit to funding despite two years of pressure from the Moray Sports Foundation.
It was formed to develop the complex, but its convener, Sandy Adam, fears the delay is in danger of robbing it of the benefits that would have come from being operational while the Scottish star was still playing.
---
>> Keep up to date with the latest news with The P&J newsletter
---
His mum, Judy Murray, has already pledged to help develop a coaching network for the indoor courts to nurture the next generation of talent across the north.
Yesterday, Mr Adam pressed the agency to make a decision on funding or risk missing out on Murray-mania.
He said: "We really have to get this going.
"When the fund was announced it was designed to be a lasting legacy.
"We've got the project, we've got planning permission, but without the courts what's the legacy going to be?
"It's been really frustrating. We know the money is there but it's been made very difficult. There always seems to be one reason or another to knock it back or delay it."
The indoor tennis courts have been planned separately from the main sports centre building, which will include a sports hall, gym and cafe.
The complex's operations manager Carl Gavine, who coached young tennis talent in the US during a 32-year professional career in the sport, believes promise could go unfilled in Moray without the facility.
He said: "From my experience of coaching I know that there is no way whatsoever that Moray can produce a tennis champion without having access to year-round facilities.
"That's the reason Andy Murray had to leave Scotland to become the player he has been.
"We need this now if we're going to build on his legacy."
The Moray Sports Foundation has applied to the Transforming Scottish Indoor Tennis Fund, which awards up to £250,000 per project.
Moray MSP Richard Lochhead has already pressed Sport Scotland to back the Elgin facility.
He added: "There's been an outpouring of affection for Andy Murray.
"The time couldn't be more appropriate to create a lasting legacy."
A Sport Scotland spokesman said: "The Transforming Scottish Indoor Tennis panel, consisting of representatives from the LTA, Tennis Scotland and Sport Scotland, has asked for additional information from the applicant before the application can be progressed.
"We await their response and will be liaising with the applicant on updating their submission in the coming months."